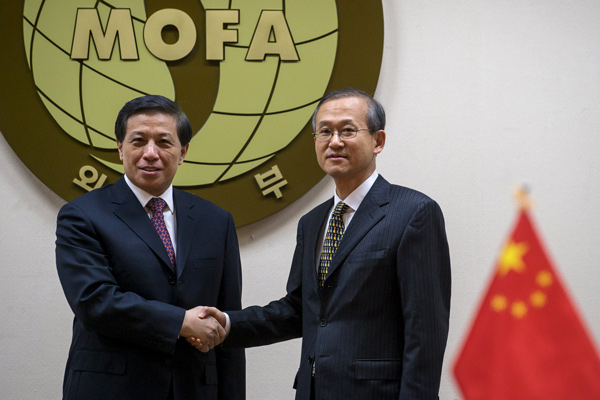 Chinese Vice-Foreign Minister Zhang Yesui, left, shakes hands with his South Korean counterpart Lim Sung-nam during their meeting at the Ministry of Foreign Affairs in Seoul, Feb 16, 2016. [Photo/Agencies]
SEOUL - The foreign affairs ministries of China and the Republic of Korea (ROK) held a strategic dialogue in Seoul on Tuesday to discuss issues including the Korean Peninsula nuclear problem.
Chinese Vice Foreign Minister Zhang Yesui co-chaired the seventh high-level strategic dialogue between the foreign affairs ministries with First Vice-Foreign Minister Lim Sung-nam of the ROK.
Zhang said China attaches great importance to relations between China and the ROK. China stands ready to work together with the ROK to implement the consensus achieved by the national leaders and push forward the development of bilateral relations while ensuring they remain on the right track, he said.
The Chinese vice-foreign minister said it is in the interests of both countries to achieve the denuclearization of the Korean Peninsula and maintain peace and stability there.
China is opposed to the nuclear test and satellite launch by the Democratic People's Republic of Korea (DPRK) and supports efforts at the UN Security Council to pass a new and forceful resolution as soon as possible. However, sanctions are not an end in themselves and a fundamental solution still has to be found through dialogue, he added.
Pyongyang conducted its fourth nuclear test on Jan 6 and launched a satellite-carrying rocket on Feb 7, which Seoul sees as a cover for a long-range ballistic missile.
The United States and the ROK have decided to discuss the deployment of the Terminal High Altitude Area Defense (THAAD). As one of the most advanced missile defense systems in the world, THAAD can intercept and destroy ballistic missiles inside or just outside the atmosphere during their final phase of flight.
Zhang presented China's serious stance on the possible deployment of THAAD in the ROK.
Such a move would not be helpful in reducing the current tensions and not be conducive to maintaining regional peace and stability. Rather, it would harm the strategic security interests of China, he said.
"China has serious concerns over such a move. We unequivocally oppose it. We are hoping that the related parties will handle this prudently," Zhang said.
The South Korean side said it attached great importance to the strategic cooperative partnership with China and is willing to make efforts to further promote bilateral relations.
The DPRK's moves of carrying out yet another nuclear test and launching a satellite-carrying rocket in disregard of international opposition have posed a real threat to the ROK, and also harmed the international non-proliferation regime, the South Korean side said.
It urged the international community to show solidarity in its response and called on the UN Security Council to pass a forceful and effective new resolution on sanctions against the DPRK as soon as possible.