HAVANA - Cuba and the United States signed an agreement Tuesday to resume daily commercial flights between the two countries for the first time in more than 50 years.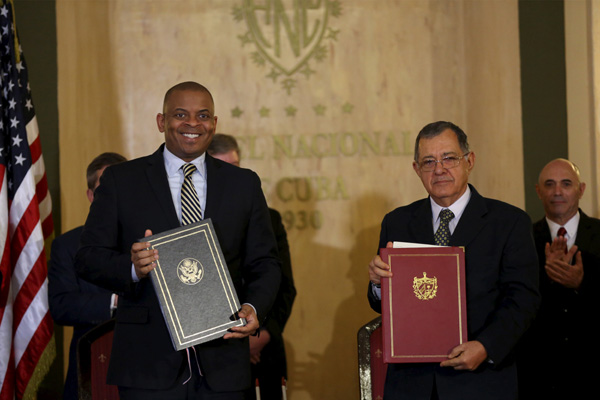 US Secretary of Transportation, Anthony Foxx (L), and Cuba's Transport Minister Adel Rodriguez show folders containing the arrangement to restore scheduled air service between the two countries, in Havana, February 16, 2016. [Photo/Agencies]
"Today is a historic day in relations between Cuba and the United States," US Transportation Secretary Anthony R. Foxx said after signing the accord with his Cuban counterpart Adel Yzquierdo in Havana.
Under the deal, the two countries could be linked by as many as 110 flights a day, more than five times the number of the current charter flights between the two countries.
The resumption of commercial flights attests to the commitment to "further strengthen" ties between the two countries, Foxx said.
Yzquierdo said the signing of the agreement marks the beginning of a new stage in bilateral ties.
The memorandum of understanding was signed at a ceremony at Havana's landmark Hotel Nacional, by Yzquierdo and Foxx, along with President of Cuba's Institute of Civil Aeronautics Alfredo Cordero and Ambassador Charles H. Rivkin, assistant Secretary of State for Economic and Business Affairs.
Upon the deal taking effect, airlines from the two countries may enter into cooperative marketing arrangements, such as code sharing and aircraft leasing between them or with third-country carriers.
A number of US carriers, including American Airlines, United Airlines and JetBlue, have expressed an interest in bidding on routes to Havana.
The application deadline is set on March 2, meaning the Transportation Department could announce as early as summer which carriers have been given the green light.
The agreement is the latest step in normalizing bilateral ties between Cuba and the United States, since the two nations announced in December, 2014, their decision to resume diplomatic relations.