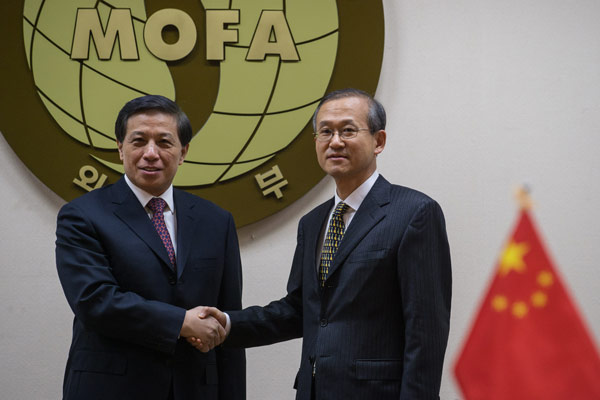 Vice-Foreign Minister Zhang Yesui (left) meets journalists with his ROK counterpart Lim Sung-nam during their meeting at the Ministry of Foreign Affairs in Seoul on Tuesday.[Photo/AFP]
China supports a new and stronger United Nations Security Council sanctions resolution against the Democratic People's Republic of Korea, a senior diplomat was quoted by the Xinhua News Agency as saying on Tuesday.
Vice-Foreign Minister Zhang Yesui made the remark after talks with ROK First Vice-Foreign Minister Lim Sung-nam in Seoul, Xinhua reported.
But Zhang stressed that a fundamental solution should be sought through dialogue and negotiations.
Zhang was in Seoul to attend the seventh China-Republic of Korea High-Level Strategic Dialogue between Foreign Ministries.
The gathering took place amid heightened reactions by the United States and the ROK against the DPRK's recent nuclear test and rocket launch.
Foreign Ministry spokesman Hong Lei reiterated on Tuesday that China supports the Security Council in passing new sanctions resolutions against the DPRK.
He said the aim of the sanctions should be to deter the DPRK from advancing its nuclear and missile program, and any new Security Council actions should take this "definite direction".
ROK President Park Geun-hye said her country would take strong measures against the DPRK, and should use all possible means to resolve the Korean Peninsula nuclear issue, Yonhap reported.
Park's comment came after the US and the ROK announced on Feb 7 the start of formal consultations on the viability of the US deploying a powerful missile system to the US military base in the ROK.
On Tuesday, Zhang reiterated opposition to the deployment, a move that Foreign Minister Wang Yi said earlier would directly damage China's strategic security interests.
Wang said in Munich on Friday that China would not accept war and turbulence on the Korean Peninsula and that China's legitimate national security interests must be guarded and guaranteed effectively.
The ROK has engaged in a series of diplomatic activities aimed at securing the international community's support for strong measures against the DPRK's nuclear test and rocket launch.
During his visit to the US from Wednesday to Saturday, Cho Taeyong, a senior ROK national security official, will meet with US Deputy Secretary of State Tony Blinken for talks about strong sanctions being imposed on the DPRK, Yonhap reported.
According to the ROK Foreign Ministry, during the past week ROK Foreign Minister Yun Byungse met with counterparts from China, the European Union, Germany and Russia to discuss ways to respond to the DPRK's actions.