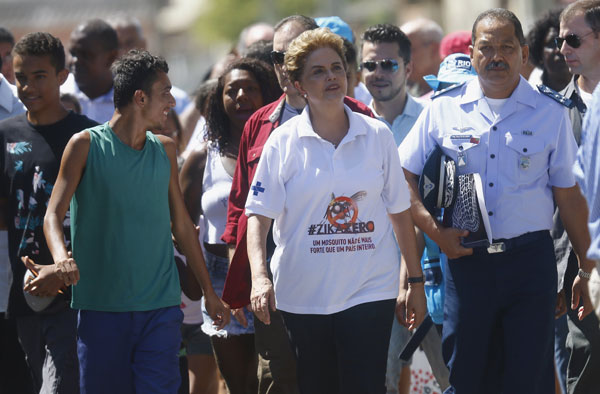 Brazil's President Dilma Rousseff (C) walks with residents during a visit to their neighborhood on the National Day of Mobilization Zika Zero in Rio de Janeiro, Brazil, February 13, 2016.[Photo/Agencies]
RIO DE JANEIRO -- Brazilian President Dilma Rousseff said on Saturday that the 2016 Olympic Games in Rio de Janeiro would take place despite the Zika virus, at a time when various athletes have expressed their fears about competing.
"We are aware of one thing. There will be Olympic Games and we are focused on that goal," said Rousseff during a speech in Rio de Janeiro, which is waging a broad campaign against the virus.
"Zika will not compromise the organization of the Games. Certain cities, like Rio de Janeiro, will be given priority (in the fight against the disease)," she added.
Rousseff returned to a regular point, telling the population to do more to fight the Aedes Aegypti mosquito, which transmits dengue, chikungunya and Zika virus.
"We are working with the University of Texas and the US government to guarantee that research results in a vaccine as quickly as possible," she also commented.
Rousseff, who was accompanied by Rio mayor Eduardo Paes and local health authorities, visited houses in the suburb of Santa Cruz and urged the population to take active precaution measures to fight the mosquito.