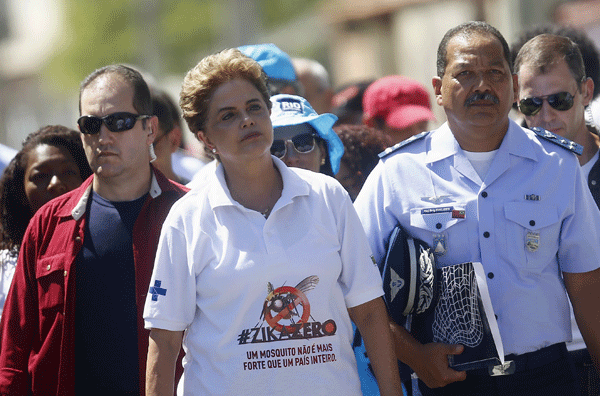 Brazil's President Dilma Rousseff walks with residents during a visit to their neighborhood on the National Day of Mobilization Zika Zero in Rio de Janeiro, Brazil, Feb 13, 2016. [Photo/Agencies]
BEIJING -- Many countries have raised their alert levels or boosted their efforts against the Zika virus as scientists race to develop a vaccine for Zika, but the World Health Organization (WHO) says vaccines could come out in at least 18 months.
Brazil, the center of the endemic, has been scaling up its efforts, including mobilizing troops, to curb the spread of Zika since it declared a public health emergency in November.
The focus of fighting the virus has been on eliminating its carrier, the Aedes aegypti mosquito.
As the Olympic Games are scheduled for August in Rio De Janeiro, controversies have risen over the risk of holding the Games in the city.
Rio De Janeiro Mayor Eduardo Paes, however, brushed aside concerns for health risks on Friday, saying the Zika virus is not a threat to the Olympic Games.
"We have to deal with the Zika problem, but that is not an Olympic issue. It is an issue for us Brazilians and for Rio de Janeiro," he said.
Mayor Paes argued that August and July are in the dry season, with less incidence of the mosquito that usually lays its eggs on stagnant water.
But he vowed no letup in the fight. "We must take all the necessary precautions, show that we are doing whatever we can to prevent any athlete or visitor who comes to Rio from catching the disease."
Paes criticized the uproar over the Zika virus, saying there is "some exaggeration" about the risks.
The Brazilian Health Ministry have announced it would launch a national mobilization campaign to exterminate the Aedes aegypti mosquito in the country's 350 highly vulnerable cities.
Brazilian Defense Minister Aldo Rebelo said the latest campaign will go house to house, reaching at least 3 million homes and distribute 4 million leaflets on Saturday.
President Dilma Rousseff has sent her ministers to join the mobilization efforts in various states.