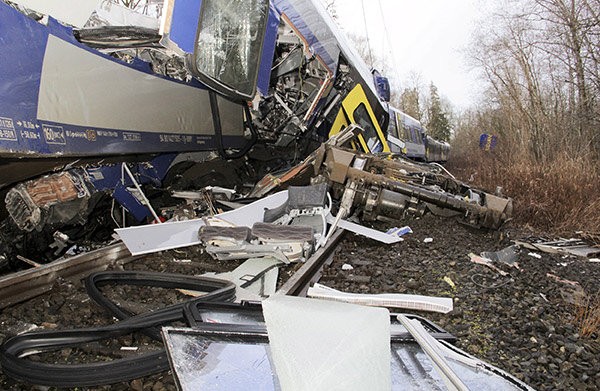 The wreckage of a carriage is pictured at the site of two crashed trains near Bad Aibling in southwestern Germany, February 9, 2016. At least 10 people died after two trains collided in the southern German state of Bavaria on Tuesday, a police spokesman said, adding about 100 people were also injured. [Agencies]
BERLIN -- A wrong decision of a dispatcher is supposed to be the reason for the train collision which killed at least 10 people in the southern German state of Bavaria on Tuesday morning, German media reported.
A railway worker suspended the automatic signal system exceptionally, in order to "wave through" a belated train set, German newspaper Hannoversche Allgemeine Zeitung quoted investigators.
However, the train set did not make it in time to a meeting point where the single-track line is expanded to double track, said the report.
So far, one person is still missing in the train wrecks, while 17 people were seriously injured, according to local police and media reports.
A police spokesman confirmed on Tuesday chances were small for the person missing in the train wrecks to survive.
About 150 people were onboard the two trains when they collided head-on at around 6:40 am local time (0540 GMT) in Bavaria.