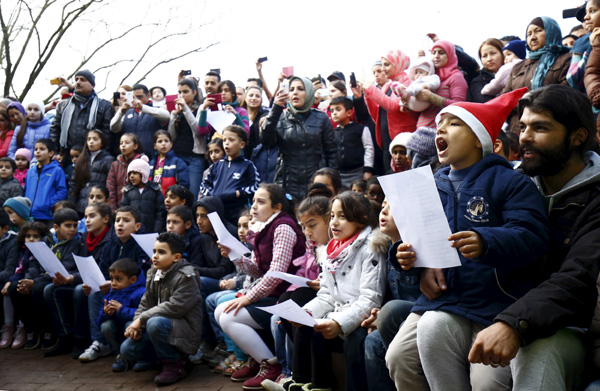 Migrants sing the traditional German christmas carol "Oh christams tree" during a Christmas gathering, organized by local relief organization "Die Johanniter", with christmas presents for the children at the refugee camp in Hanau, Germany, December 24, 2015. [Photo/Agencies]
BERLIN - German states are set to spend around 17 billion euros (18.55 billion US dollars) on refugees in 2016, according to a latest survey published on Tuesday.
The number comes from a survey carried out by the German newspaper Die Welt, which looked at the budgets for the coming year for 15 of Germany's 16 federal states, with Bremen making an exception as it has not yet published its spending plans.
Top spenders are set to be North Rhine-Westphalia and Bavaria, which have set aside 4 billion euros and 3.3 billion euros for refugees respectively.
The actual costs for 2016, according to Die Welt, could be even higher though, as current budgets are based on a previous official estimate that 800,000 refugees would arrive in Germany in 2015.
However, the real number of asylum seekers entering the country is expected to exceed 1 million this year.
Initial budgets for 2015 by Germany's federal states had put spending on refugees at 5-6 billion euros, but this figure soon became irrelevant as initial projections of half a million arrivals were surpassed by a large margin.
A study by German newspaper Frankfurter Allgemeine Zeitung in September estimated that the total costs for this year would be around 10 billion euros.