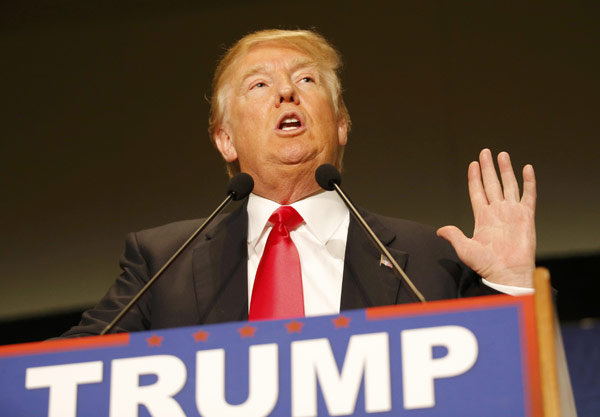 US Republican presidential candidate Donald Trump speaks during a campaign rally in Cedar Rapids, Iowa February 1, 2016. [Photo/Agencies]
DES MOINES, Iowa - Donald Trump's ground-breaking White House campaign faces its first test at the hands of voters on Monday when Iowa begins the nationwide process of choosing a new US president, with polls showing him in a tight battle with Ted Cruz to be the Republican nominee.
On the Democratic side, front-runner Hillary Clinton is hoping to fend off a stiff challenge in Iowa from insurgent Bernie Sanders in the first of the state-by-state battles to pick party candidates for the Nov. 8 election to succeed President Barack Obama.
Late opinion polls showed Trump, a blunt-spoken billionaire businessman who has never held public office, with a small lead over Cruz, a conservative US senator from Texas. Clinton had a slight edge on Sanders, a US senator from Vermont.
But there is a large bloc of undecided voters in both parties in Iowa and no certainty on who will turn up at the caucuses on a wintry evening, given that many supporters of Trump and Sanders are new to the process and disenchanted with traditional politics.
A Des Moines Register/Bloomberg Iowa poll on Saturday showed three in 10 likely Democratic caucus-goers and 45 percent of likely Republican caucus-goers were still uncertain.