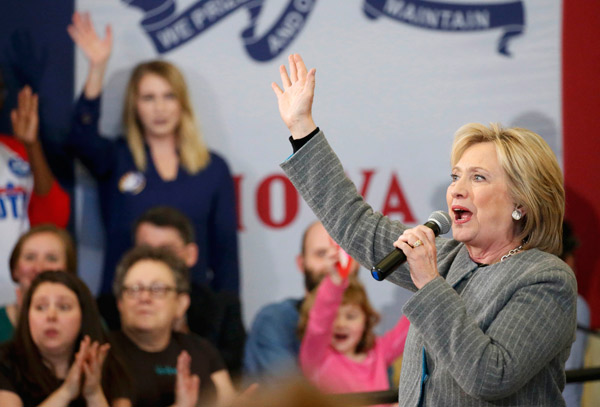 US Democratic presidential candidate Hillary Clinton speaks during a campaign rally at Abraham Lincoln High School in Council Bluffs, Iowa, Jan 31, 2016. [Photo/Agencies]
DES MOINES - The Iowa caucuses on Monday mark the beginning of the presidential nomination process for both the Democratic and Republican Parties in the 2016 presidential election.
Three candidates, including former Secretary of State Hillary Clinton, are competing to be the standard-bearer of the Democratic Party, while the Republican field includes New York billionaire developer Donald Trump, former Florida Governor Jeb Bush, and nine other candidates.
In the quadrennial election cycle, the two parties officially nominate their respective candidate for presidency at their national conventions, which will be convened in the summer before the Election Day in November.
The party nomination is determined by the state-by-state primary elections spanning from start of the year to summer in the year.
There are two forms of primary elections, namely caucuses and primaries. Unlike primaries, where statewide secret ballots are held, caucuses are local gatherings of party members who openly show support for candidates.
All the US states choose which form of primary elections they would like to hold and the events determine which candidates will receive a state's votes for the Republican and Democratic nominations at their national convention.
For decades, the Iowa caucuses and New Hampshire primary have been running ahead of primary elections in other states, and the results of the two events have long been widely regarded as early indication of which candidates might win the final nomination.
Though Iowa doesn't necessarily represent a diverse cross-section of America, with the whites taking up a large proportion of the state's population, the Iowa caucuses have long been watched closely in each election cycle, since it is the first voting that could indicate how the country as a whole will respond to the candidates.
In each election cycle, if a candidate doesn't place highly in the early states, supports begin to dry up, which means that Iowa caucuses also help to winnow the field.
In this presidential election cycle, Iowa caucuses are set to begin on Monday at 7 p.m. local time in roughly 17,000 precincts and they go until they are finished. There is no set end time. Eight days after Iowa caucuses, the New Hampshire primary will be held.
According to the final poll before Iowa caucuses released on Saturday by the Des Moines Register/ Bloomberg Politics, Clinton led Senator Bernie Sanders by a mere 3 percent among likely Democratic caucusgoers.
Clinton, former first lady and former US top diplomat, is a favorite candidate among caucusgoers who are 65 and older and moderates. Sanders, a lawmaker from the state of Vermont, wins a majority of those under 35, first-time caucusgoers and political independent, said the poll.
In the still crowded Republican field, real estate mogul Trump, with 28 percent of support, regained his lead since last August when he was first overtaken by Ben Carson, a retired neurosurgeon and then Ted Cruz, a Texas US senator and anti-Washington crusader.