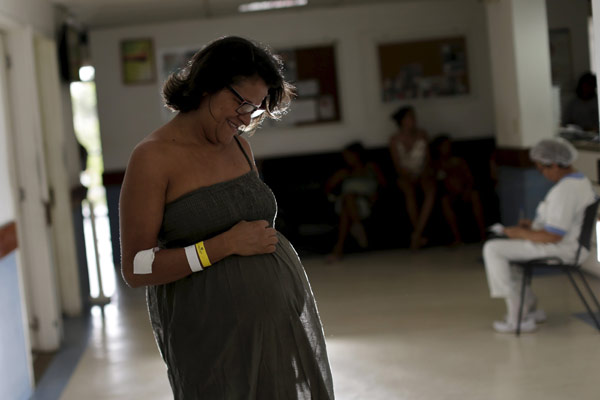 Elizangela Marques, who is six months pregnant, poses for a picture at the IMIP hospital in Recife, Brazil, January 28, 2016. [Photo/Agencies]
THALIDOMIDE TRAGEDY
Brazil's health ministry said as of Jan. 23 there were 270 confirmed cases of microcephaly and a further 3,448 suspected cases since October are being investigated -- by far the most in the Americas.
World Health Organization officials say there is no scientific proof that Zika stunts the development of the fetus, causing microcephaly, but it is strongly suspected.
Ninety percent of children born with the condition will have retarded mental and physical development, and will need specialized care for the rest of their lives. There is no certainty what they will be able to see or hear, or when they will learn to walk and talk, Scavuzzi said.
Scavuzzi compared the emergency to the Thalidomide tragedy of the 1960s when thousands of children, mostly in Europe, were born with deformed limbs due to the use of the pill to help pregnant women with insomnia and morning sickness.
ABORTION ILLEGAL
Public health experts expect Zika will lead to an increase in illegal abortions. An estimated 1 million are already carried out every year in Brazil.
"Zika is a health catastrophe and a terrifying menace for pregnant women," said Daniel Becker, a pediatrician and public health expert in Rio de Janeiro. "People will look for an abortion."
Women's rights organizations are advocating legal abortion in the case of women who contract Zika, a move that so far has been only taken by Colombia's health ministry.
With Brazil's health care system already over-stretched, the future for many mothers could be grim if the Supreme Court does not act, said Debora Diniz, a law professor leading the campaign.
"We will soon have a generation of poor women whose destiny will be to look after extremely dependent children full-time," she said.