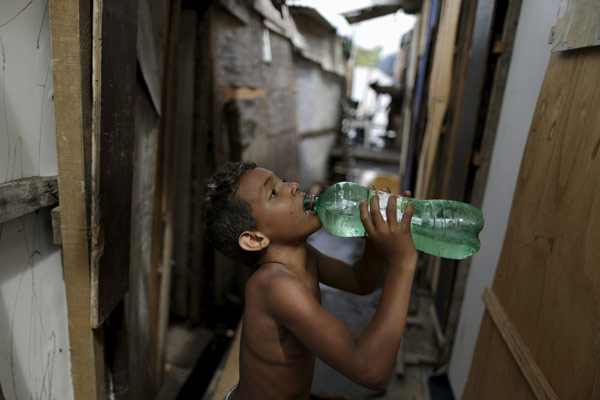 A boy drinks water at his house in the shanty town of Beco do Sururu, Recife, Brazil, January 29, 2016. [Photo/Agencies]
Shocking images of babies with birth defects have made many women think twice about getting pregnant.
Doctors worry the outbreak will lead to an increase in dangerous clandestine abortions in the majority-Catholic country. Under Brazilian law, terminating pregnancies is illegal except in cases of rape and when the mothers' life is at risk.
The rapid spread of Zika to 22 countries in the Americas has prompted some governments to advise women to delay having children. El Salvador recommended women not get pregnant for two years.
It has also triggered debate on liberalizing abortion in the region, where many countries have strict laws.
"Fear is growing among women because this is a new disease that we know little about. We don't have many answers," said Adriana Scavuzzi, a gynecologist at the IMIP hospital.