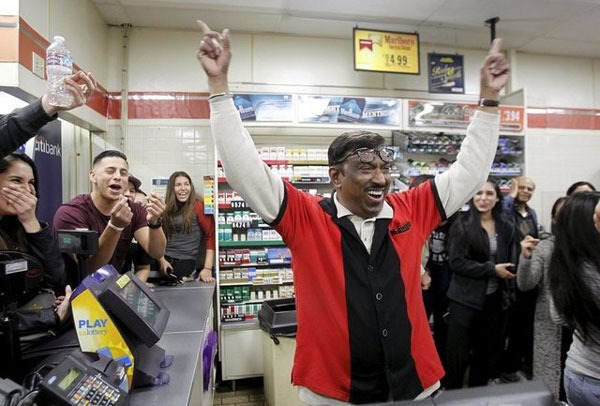 7-Eleven store clerk M. Faroqui celebrates after selling a winning Powerball ticket was sold is shown in Chino Hills, California January 13, 2016.[Photo/Agencies]
The prospect of becoming instantly rich sparked a ticket-buying frenzy that was expected to have reached a rate of $1.3 million per minute during Wednesday's evening rush hour, Gary Grief, executive director of the Texas lottery, told a news conference.
To receive the full jackpot amount, winners have to accept a multi-year annuity, whereas the lump sum cash payout for the jackpot was about $983.5 million, lottery officials said.
For every $1 worth of Powerball sales, half goes to prizes, 40 percent to causes such as education, and 10 percent to retailers who sell the tickets and other administrative costs, Grief said.
If no winning tickets had been sold on Wednesday the jackpot would have rolled over again, pushing the annuitized prize to an estimated $2 billion, with a cash value of $1.24 billion.
Powerball is played in 44 states, Washington, D.C. and two US territories.