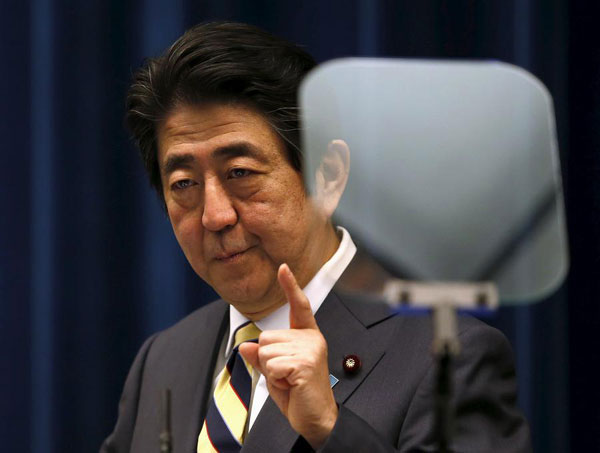 Japan's Prime Minister Shinzo Abe addresses reporters on the first official business day of the New Year during a news conference at his official residence in Tokyo, Japan, January 4, 2016. [Photo/Agencies]
TOKYO - Japanese Prime Minister Shinzo Abe said Monday he is not planning to dissolve the lower house of parliament and call a snap election ahead of the triennial upper house elections this summer.
Speaking at a press conference as the Diet kicks off an ordinary session Monday, earlier in the year than usual, the leader of the ruling Liberal Democratic Party of Japan (LDP) also said that maintaining his ruling bloc's majority in the upcoming upper house elections would be a priority.
Abe, who has entered his fourth year as prime minister, also said that following Japan, China and South Korea holding a sixth trilateral summit in November, marking the first time the three countries had done so since 2012 owing to regional tensions, he is hoping for the nations'foreign ministers to hold talks this year ahead of a leaders' summit also slated for this year to be held in Japan.
The prime minister also reaffirmed his commitment to his economic reform policies, stating that he remained driven to achieving his 600 trillion yen (5 trillion US dollars) GDP target by around 2020, as well as raising the birthrate to 1.8 children per woman in a bid to boost the population and tackle the shrinking birthrate.
On the Bank of Japan and government's bid to combat deflation, Abe said that the effects of his "Abenomics"policies since their introduction in 2012 have been positive and that deflation has been effectively tackled.
"We have put the utmost priority on the economy for these three years. We are still half way but we have created a situation that is no longer seen as deflation," Abe told the news conference, although later back-pedaled stating that deflation hadn't been completely conquered.