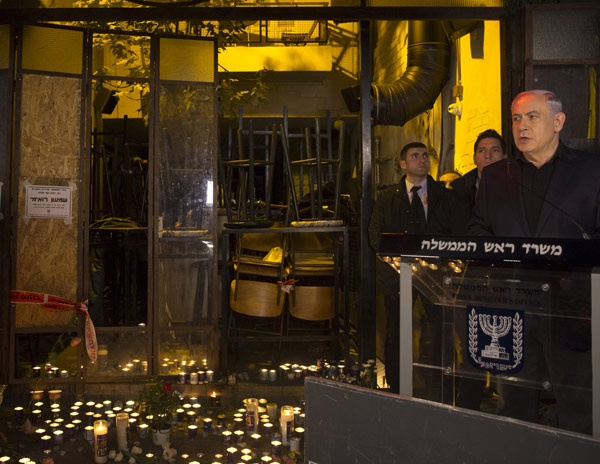 Israeli Prime Minister Benjamin Netanyahu delivers a statement to the media during a visit to the scene of a shooting incident in Tel Aviv, Israel January 2, 2016. [Photo/Agencies]
TEL AVIV -- Israeli Prime Minister Benjamin Netanyahu said on Saturday that Israel will increase enforcement against lawlessness in the Arab sector, following a Friday shooting attack by an Arab Israeli which left two people dead.
Netanyahu, who arrived at the scene of Friday's attack on Dizengoff Street in central Tel Aviv, said authorities will "dramatically increase" police enforcement in Arab towns.
"We will open new police stations, recruit more police officers, go into all towns and demand of everyone loyalty to the laws of the state," Netanyahu told reporters on Saturday.
Although the right-wing prime minister acknowledged Arab leaders' condemnation of the killings and the fact that most Arab Israelis are law-abiding citizens, he did say authorities should quell "Muslim incitement."
"There is wild incitement by radical Islam in the Arab sector," Netanyahu said, adding that those who wish to be Israeli citizens "must be fully Israeli, both in rights and in obligations" and must "abide by the laws of the state."
Two Israelis, Alon Bakal and Shimon Ruimi, died in Friday's shooting attack and six others were injured in moderate to serious condition.