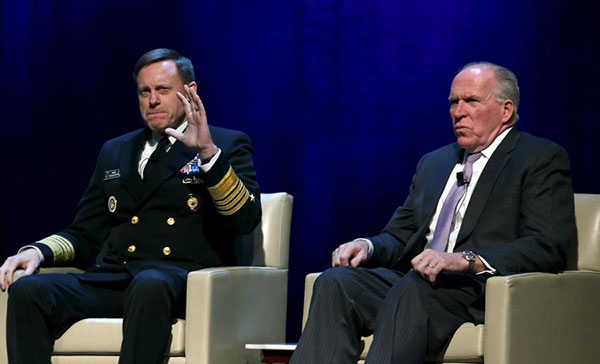 Admiral Michael Rogers, director of US National Security Agency (NSA), gestures next to CIA Director John Brennan (R) during a conference on national security entitled "The Ethos and Profession of Intelligence" in Washington October 27, 2015. [Photo/Agencies]
WASHINGTON - The White House is faced up with strong reactions from US Congress members, whose communications with the Israeli officials were reportedly tapped by the National Security Agency (NSA), said media reports.
A Wall Street Journal report on Tuesday said that NSA had kept watch on Israeli Prime Minister Benjamin Netanyahu and top Israeli officials.
They caught some conversations between the Israeli officials with US lawmakers during the Iranian nuclear talks, according to the report.
It is reported that the White House enhanced surveillance on Israel in light of Netanyahu's opposition to the nuclear deal.
Republican Rep. Devin Nunes told the Associated Press on Wednesday that he has asked the director of National Intelligence and NSA head to come to Capitol Hill next week to brief lawmakers on the matter.
Such moves by intelligence services in the United States are usually required to be reported to top congressional leaders and the heads of the House and Senate Intelligence committees.
Nunes said he received no such notification, stressing that he would do his part to "get the facts" surrounding the issue.