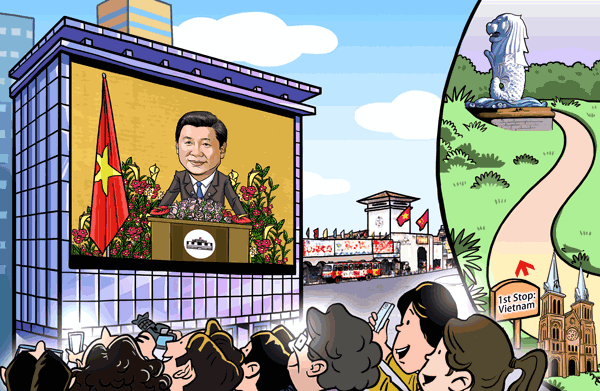 On November 6, The General Secretary of the Communist Party of China (CPC) Central Committee, Chinese President Xi Jinping had a second talk with the General Secretary of the Communist Party of Vietnam (CPV) Central Committee Nguyen Phu Trong and Vietnamese President Truong Tan Sang. Xi delivered a speech entitled, "Opening a new chapter to promote China-Vietnam friendly ties" at the Vietnamese National Assembly in Hanoi.
Xi emphasized that Beijing and Hanoi should keep relations as good comrades with mutual trust and help good partners for win-win cooperation, good neighbors with devoted beliefs, good friends with frequent contacts. He expounded on the China-Vietnam community of destiny and pointed out the direction of bilateral relations development in the future.
China and Vietnam are good neighbors, and a community with common interests and consensus targets. In the new historical phrase to serve as links for bilateral relations, both sides should work together.
Xi's two-day Vietnam visit has an intensive itinerary that is pragmatic and efficient, which opens a new chapter in China-Vietnam friendly relations. It sets the tone for stable and healthy development of bilateral relations.
The visit expands pragmatic cooperation between China and Vietnam, China and Association of Southeast Asian Nations (ASEAN) to steer the China-Vietnam community of destiny to a new level.
Comments by Xu Xiujun, associate researcher with the Institute of World Economy and Politics at the Chinese Academy of Social Sciences; comics drawn by Wang Xiaoying