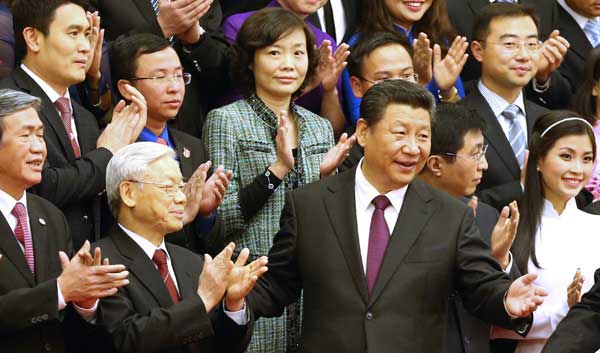 Chinese President Xi and Nguyen Phu Trong, Vietnam's Communist Party chief, address young people from both countries in Beijing, April 4, 2015. [Photo by Wu Zhiyi / China Daily]
Within the wider context of the US provocations and rising tensions in the South China Sea, China is mounting a charm to raise the level of diplomacy with the ASEAN states. Official contacts with Vietnam in particular have reached a new high after a low last year due to the tension in the South China Sea. The visit by General Secretary of the Vietnamese Communist Party Nguyen Phu Trong and Vietnamese President Truong Tan Sang to Beijing and President Xi Jinping's return visit to Hanoi this week mark a new phase in Sino-Vietnamese relationship. Whither would this new development take the Chinese and Vietnamese people?
China has been exercising great restraint and goodwill in dealing with the dispute with Vietnam. In the case of the claims for South China Sea islands, China did not use unnecessary force to stake its claims to the islands and is willing to sit down to negotiate with the Vietnamese. This sincerity must have been noticed by the Vietnamese leaders, although it is unspoken.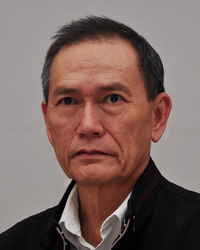 Chua Chin Leng[Photo provided to chinadaily.com.cn]
Vietnamese leaders are just as pragmatic as the Chinese and would want to steer Vietnam forward to rapid economic growth, and indulging in unfruitful and contentious quarrels would not lead to any good for both sides. Vietnam needs foreign investments and China is willing to invest heavily in Vietnam and to promote more trade between the two countries. The proximity of the two countries and China's financial clout and expertise to turn Vietnam in the way China itself has been transformed, and the way China is helping to transform the Central Asian countries must have weighed heavily on the Vietnamese leaders. Vietnam does not need another war but more economic growth and development.
The tantalizing carrot extended by the Americans to support Vietnam's island dispute with China could only be counterproductive and would lead nowhere.Good relations with China would bring immediate economic benefits to Vietnam and kick start the slowing economy and be a boost to Vietnamese industries.
Vietnam has the choice of seeking rapid economic growth with Chinese expertise and financial aid or to continuing to indulge in a self defeating agenda with China.
Political differences can be set aside and to be negotiated in another day as long as both sides want to. Economic realities and concerns cannot wait. The improving Sino-Vietnam relations could be driven more by economic considerations to benefit the people of both countries.
There is a new sense of purpose and common goals in the thinking of the leaders of both countries, to build a better future for their respective people. And this is likely China's new model of diplomacy to foster economic growth and better relations with the ASEAN countries. The unsolvable problems and long term differences can be left to the future generations to decide. There are many things that China can contribute to the growth and development of ASEAN countries.
The author, Chua Chin Leng, is a political observer from Singapore.