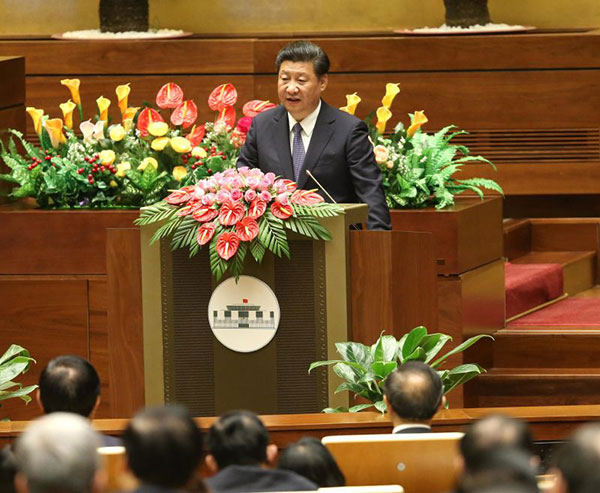 Chinese President Xi Jinping delivers a speech at the Parliament House in Hanoi on Nov 6, 2015. [Photo by Pang Xinglei/Xinhua]
HANOI - The China-Vietnam relations have strategic importance and both countries are capable of dispelling disruptions in bilateral ties, Chinese President Xi Jinping said here Friday.
The remarks were made when Xi addressed the National Assembly of Vietnam on further promoting China-Vietnam relations.
China and Vietnam should take the opportunity of celebrating the 65th anniversary of the establishment of diplomatic ties to keep the overall China-Vietnam relationship in the right direction and ensure the traditional friendship be passed on from generation to generation, said Xi.
China and Vietnam, Xi said, enjoy wide common interests, and the friendly cooperation has always been the mainstream of bilateral relations.
The two sides should insist on mutual respect and friendly negotiation, seek common ground, and handle differences properly, the president said.
Meanwhile, Xi said the two countries should comprehensively deepen and reinforce China-Vietnam mutual beneficial cooperation, which has brought tangible benefits to the two peoples and is conducive to regional peace, stability and prosperity.
Xi arrived in the Vietnamese capital of Hanoi on Thursday, kicking off a two-day state visit to the neighboring country.
Before addressing the parliament, he had a breakfast meeting with General Secretary of the Communist Party of Vietnam (CPV) Central Committee Nguyen Phu Trong and met with National Assembly Chairman Nguyen Sinh Hung.
Vietnam is the first leg of Xi's two-nation Asia tour, which will also take him to Singapore on Friday afternoon.