Comments by Xu Xiujun, associate researcher with the Institute of World Economy and Politics at the Chinese Academy of Social Sciences;
The General Secretary of the Communist Party of China (CPC) Central Committee, Chinese President Xi Jinping pays his state visit to Vietnam at the invitation of General Secretary of the Communist Party of Vietnam (CPV) Central Committee Nguyen Phu Trong and Vietnamese President Truong Tan Sang.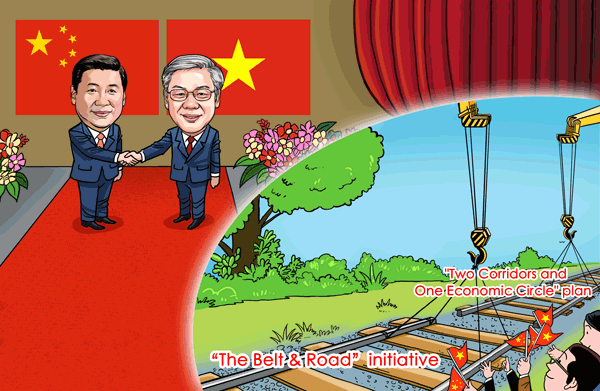 President Xi arrived in Hanoi, the capital of Vietnam on November 5. This is a Chinese President's first state visit to Vietnam in a decade and Xi's first visit as the top leader of the CPC, which is of great significance.
President Xi will engage in extensive contacts with Nguyen Phu Trong, Truong Tan Sang, other Party and government leaders of of Vietnam, and people from all walks of life in the country.
They will have in-depth exchanges on bilateral relations of the two Parties (CPC & CPV), international and regional issues of common interest. Both sides will consolidate the traditional friendship and plan for future development.
China and Vietnam are friendly neighbors. Both countries have the same political systems and similar development path. Since the establishment of China-Vietnam diplomatic relations 65 years ago, bilateral relations have been progressing to a community of destiny.
Xi's visit would enhance mutual trust to develop a consensus on neighborly, friendly, comradely and brotherly ties.
China-Vietnam relations should develop in the correct path, expand mutual pragmatic cooperation within the framework of China's "One Belt and One Road" Initiative and Vietnam's "Two Corridors and One Economic Circle" plan to steer a China-Vietnam comprehensive strategic cooperative partnership to a higher level.