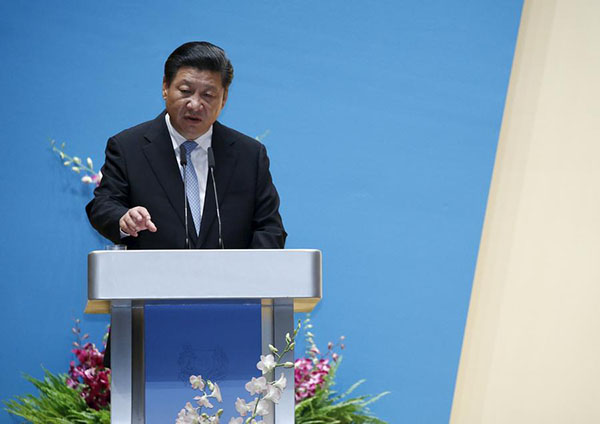 President Xi Jinping speaks during the "Forging A Strong Partnership to Enhance Prosperity of Asia" Lecture at the National University of Singapore, Nov 7, 2015. [Photo/Agencies]
SINGAPORE - China supports the growth of ASEAN and is resolute in boosting friendly cooperation with the Southeast Asian bloc, President Xi Jinping said Saturday in a speech at the National University of Singapore.
He noted that by the end of the year the ASEAN Economic Community will be in place, which will be the first ever sub-regional economic community in Asia.
China, he added, will firmly support the establishment of the ASEAN Economic Community, as well as ASEAN's leading role in promoting regional cooperation in East Asia.
Speaking highly of the history and development of ASEAN, Xi said that neighborhood is the starting point of China's development initiatives such as the "Belt and Road" and vision of building a community of common destiny.
Meanwhile, he welcomes neighboring countries to board China's express train of development.