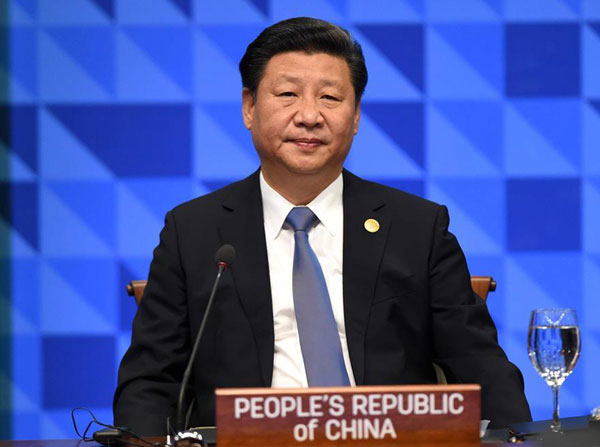 Chinese President Xi Jinping attends the 23rd APEC Economic Leaders' Meeting in Manila, the Philippines, Nov. 19, 2015.[Photo/Xinhua]
MANILA - Chinese President Xi Jinping on Thursday called on Asia-Pacific economies to boost win-win cooperation in pursuit of common prosperity.
Xi made the remarks here at the 23rd Asia-Pacific Economic Cooperation (APEC) Economic Leaders' Meeting, which was themed "Building Inclusive Economies, Building a Better World."
Although its economy is faced with various challenges, "the Asia-Pacific region is still the locomotive driving the world economy," Xi said, urging all APEC members to make use of the regional platform and step up win-win cooperation so as to continue leading global growth.
During last year's APEC summit in Beijing, the 21 members inked a blueprint on enhancing physical, institutional and people-to-people connections by 2025, and also officially launched the Free Trade Area of the Asia-Pacific (FTAAP) process.
"As we gather again one year after that, our goal is still to deepen Asia-Pacific cooperation and promote common development of the region," Xi said.
Stressing that Asia-Pacific economies should look ahead to the future and improve the framework for regional medium- and long-term cooperation, Xi pointed out that reform and innovation are needed to find new growth impetus.
He called for joint efforts to push forward transition of growth model and economic restructuring and deepen cooperation in areas that have great potential, such as urbanization, Internet economy and blue economy.
Meanwhile, "we need to advance regional integration and build an open Asia-Pacific economy," said Xi, while urging APEC members to complete the construction of the FTAAP at an early date.
In the process of formulating regional free trade agreements, Xi suggested, all related members should stay open and inclusive, seek cooperation of mutual benefit and safeguard the multilateral trade regime.
As to regional connectivity, the Chinese president called on Asia-Pacific economies to continue to earnestly carry out the connectivity blueprint forged in Beijing so as to break the bottleneck in regional development.
Calling the Asian Infrastructure Investment Bank (AIIB) an important platform supporting regional connectivity, Xi said China and other related countries are accelerating the preparations and the bank is expected to be formally established by the end of this year.
The Silk Road Economic Belt and the 21st Century Maritime Silk Road, together known as the Belt and Road Initiative, are also making steady progress, and the Silk Road Fund project is already in operation, Xi noted.
In addition, China stands ready to make continuous efforts in strengthening APEC's capacity building, said the Chinese president.