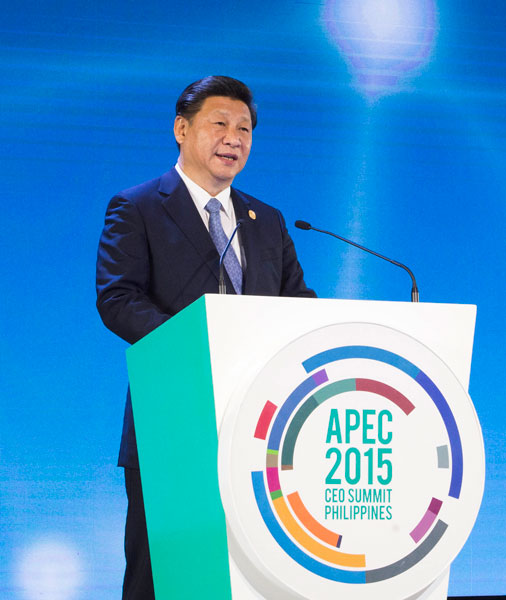 Chinese President Xi Jinping addresses the APEC CEO summit in Manila, the Philippines, Nov. 18, 2015.[Photo/Xinhua]
MANILA - Chinese President Xi Jinping on Wednesday called for concerted efforts to promote connectivity in the Asia-Pacific region and speed up the construction of the Free Trade Area of the Asia-Pacific (FTAAP).
Addressing an Asia-Pacific Economic Cooperation (APEC) CEO summit in Manila, Xi put forward a four-point proposal for the region to "steer this giant ship of the Asia-Pacific economy in the right direction."
He called upon APEC economies to press ahead with reform and innovation, build an open economy, implement the 2030 Sustainable Development Agenda, and promote connectivity.
Xi stressed that nothing should be allowed to disrupt the region's development process and APEC members should spare no efforts to foster a peaceful environment conducive to development.
Asia-Pacific nations, Xi added, should respect each other's development paths chosen in line with their respective conditions and resolve differences through dialogue and consultation.
"I am confident that the vast Pacific Ocean will become a bridge of cooperation, a bond of friendship and a place we call our common home," he said.
Noting that better connectivity will increase the potential in economic and social development, Xi recalled that the APEC members inked last year in Beijing an agreement on enhancing physical, institutional and people-to-people connections by 2025.
The connectivity blueprint, Xi stressed, needs to be earnestly carried out in order to achieve tangible results.
"Even the shortest journey can't be finished without taking the first step. Even the most trivial task can't be completed without taking action," he said, quoting an old Chinese saying.
In his speech, Xi also called for efforts to boost the openness of the Asia-Pacific economy and uphold the multilateral trade regime.
Citing the "historic step forward" APEC leaders took in Beijing last year by launching the FTAAP process and the "worries about fragmentation" that have been on the rise with various new regional free trade deals cropping up, Xi urged that Asia-Pacific economies "accelerate the realization of the FTAAP and take regional economic integration forward."