President Xi sees huge potential for cooperative development projects
China called on Friday for combined efforts with Uzbekistan to develop a plan for building the Silk Road Economic Belt and promote greater cooperation in energy, agriculture and production capacity.
On the sidelines of the Shanghai Cooperation Organisation summit in the Russian city of Ufa, President Xi Jinping told his Uzbek counterpart, Islam Karimov, that the implementation of a series of projects in areas that include security, finance and transportation has benefited the people of both countries, and that a huge potential remains untapped in trade and economic cooperation.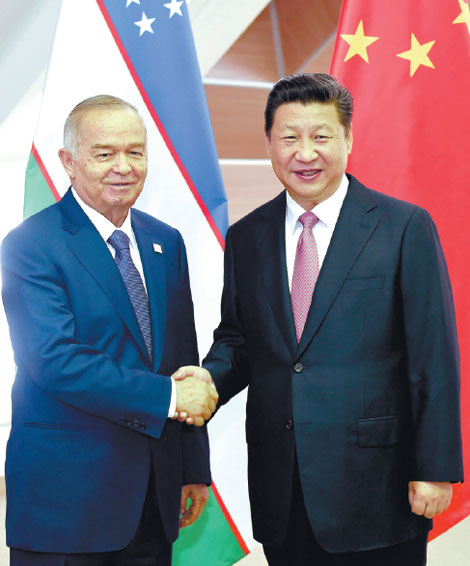 President Xi Jinping meets with Islam Karimov, his Uzbekistan counterpart, in Ufa, Russia, on Friday. Zhang Duo / Xinhua
China is Uzbekistan's second-largest trading partner. Bilateral trade volume was $4.27 billion last year, according to China's Foreign Ministry website.
Xi urged both countries to strengthen cooperation in their individual development strategies and said that China will work with Uzbekistan on the China-Central Asia-West Asia Economic Corridor.
The corridor is one of six that China and countries along the Silk Road Economic Belt and 21st Century Maritime Silk Road are planning.
Xi said that when Uzbekistan assumes the rotating presidency of the SCO after the summit, China will fully support and assist the work of Uzbekistan and jointly work for a better-connected organization with more cooperation and effective actions.
Karimov expressed his country's support for China's Belt and Road Initiative and said Uzbekistan is willing to actively participate in cooperation in trade and the economy, as well as people-to-people exchanges.
Uzbekistan also supports China's proposals on international affairs and is willing to boost coordination with China within the framework of the SCO, he said.
Chen Yurong, a senior researcher at the China Institute of International Studies, said the China-Uzbekistan relationship has seen rapid development, and the strategic mutual trust is unprecedented since the two nations elevated their relationship to a strategic partnership in 2012.
"This has been reflected in the substantial economic cooperation between China and Uzbekistan, as well as in a series of projects in infrastructure, energy and industrial parks," she said.
Uzbekistan, with several cities positioned along the ancient Silk Road, has been an active supporter of the construction of the Silk Road Economic Belt from the very beginning, while some other countries chose to wait and see, Chen said.
Xi also met with Afghan President Ashraf Ghani and Pakistani Prime Minister Nawaz Sharif later on Friday.
Contact the writers through wujiao@chinadaily.com.cn