The six-nation Shanghai Cooperation Organisation decided on Friday to start procedures for India and Pakistan to join the group as full members.
It would be the first expansion since the group's establishment in 2001.
The summit, taking place in the Russian city of Ufa, also elevated Belarus to observer status, and took in Azerbaijan, Armenia, Cambodia and Nepal as dialogue partners to the group that aims to promote wide-ranging cooperation from economics to security.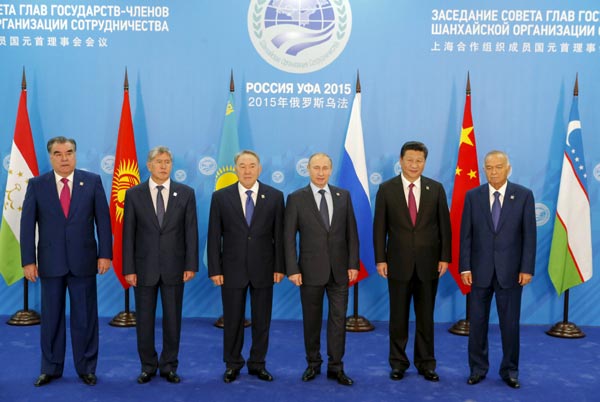 President Xi Jinping and other SCO leaders pose for a photo at the summit in Ufa, Russia, on Friday. Associated Press
President Xi Jinping said the participation of India and Pakistan, which currently hold observer status, would inject new impetus into the organization.
Pakistan Prime Minister Nawaz Sharif described the enlargement as a "watershed" geopolitical event in Eurasia, and Indian Prime Minister Narendra Modi said it would help secure regional security and development.
The summit also yielded a raft of agreements, including the SCO development strategy until 2025, a border defense cooperation agreement and a declaration on the 70th anniversary of the end of World War II.
SCO Secretary-General Dmitry Mezentsev, from Russia, said the development strategy is the first mega-document in the group's history.
Xi called on the members to take bigger steps in facilitating trade and investment, saying China would like to prioritize the implementation of already decided connectivity projects.
China would push forward the establishment of a regional connectivity network, with 4,000 kilometers of railways and more than 10,000 km of roads, said Xi, who called for greater cooperation in energy, disaster relief, counterterrorism and the prohibition of drugs.