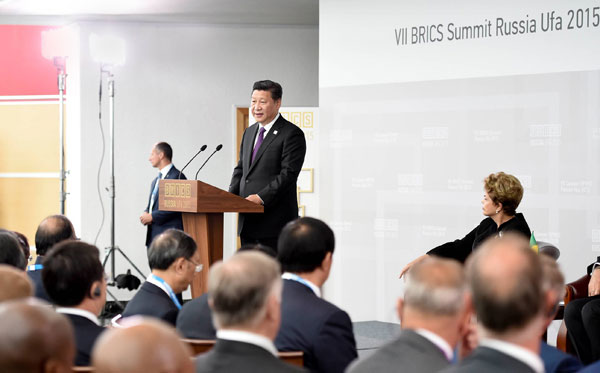 Chinese President Xi Jinping speaks at a business meeting during the 7th BRICS summit in Ufa, Russia, July 9, 2015.[Photo/Xinhua]
UFA, Russia -- Chinese President Xi Jinping on Thursday urged the business community in the BRICS countries to make new contributions to lifting economic development in the five states to a new high.
Under the current economic circumstances, the BRICS countries, namely Brazil, Russia, India, China and South Africa, are facing new challenges, but the economic development of the bloc still has a huge potential, Xi told a meeting between representatives of the BRICS Business Council and leaders of BRICS nations.
Economic and trade cooperation among the BRICS countries is in a period of vigorous development, he said, adding that he hopes the business community would make new contributions to promoting BRICS cooperation and advancing economic development in these countries.
The Chinese president called on the business community in the BRICS countries to make full use of the Business Council to push forward more practical cooperation projects.
Meanwhile, the business community should strengthen communication with and offer advices and suggestions to the government, make effort to implement the BRICS Economic Partnership Strategy and contribute to a closer economic partnership, he said.
Leaders of other BRICS nations agreed that enhanced cooperation among the business community of the five countries will contribute to economic growth as well as economic and trade cooperation within the bloc.
They believed that the BRICS nations have become an important force in the global economy, each with its own strengths, and share great cooperation opportunities in agriculture, manufacturing, infrastructure and clean energy.
They hoped that, through the joint efforts of both the government and the business community of member states, the BRICS nations will enjoy a higher status in the global economy.
On behalf of the BRICS Business Council, President of Russia's Chamber of Commerce and Industry Sergey Katyrin said that all the members have actively explored and carried out cooperation in the spirit of mutual respect and mutual benefit.
Currently, the council is devoted to reinforcing communication in such areas as business, finance, exhibition and information, Katyrin said, adding that the entrepreneurs of the BRICS countries will work together to contribute to the BRICS economic cooperation.
Xi arrived in Ufa, capital of Russia's Republic of Bashkortostan, on Wednesday to attend the seventh BRICS summit and the 15th meeting of the Shanghai Cooperation Organization Heads of State Council.
It is Xi's third time to attend the annual BRICS summit. The theme of this year's summit is "BRICS partnership: A powerful factor for global development".