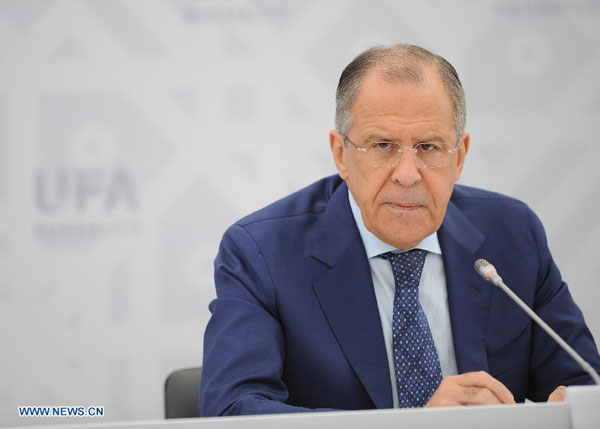 Russian Foregin Minister Sergei Lavrov addresses a press briefing in Ufa, Russia, July 9, 2015.[Photo/Xinhua]
UFA, Russia - Russian Foreign Minister Sergei Lavrov on Thursday urged BRICS (Brazil, Russia, India, China and South Africa) countries and the Shanghai Cooperation Organization (SCO) to fight together against international terrorism.
Countries of the BRICS and the SCO believed that consistent and joint efforts are needed to eliminate the Islamic State (IS), Lavrov said.
"(The IS) must be fought with determination and without double standards," Lavrov told a press conference during the ongoing BRICS and SCO summits held in Ufa, capital of Russia's Bashkortostan Republic, adding that both blocs would sign an anti-terrorism declaration.
Lavrov stressed that the complex problems of international terrorism should be solved through cooperation and coordination between countries with direct interests like Syria and all other world powers.
He also suggested that the arms embargo imposed on Iran be lifted for the better operation of the counter-terrorism fight.
"Iran is a direct supporter in the fight against the IS, therefore removing the weapons embargo would help the country increase its military capacities in the fight against terrorism," Lavrov said.
Russian Deputy Foreign Minister Sergei Ryabkov said that the joint mission of fighting against terrorism is one aspect of the international influence of BRICS countries.
Rybakov expressed his confidence earlier in the day that the Ufa summit would be another huge step forward of the BRICS development progress.
"BRICS will not only make a huge step forward in its own development, but will directly influence the international situations," Rybakov said.
"BRICS is in fact an already established new center of the multipolar world, as well as the newer and more democratic international relations system."
The 7th BRICS summit and the 15th meeting of the SCO Heads of State Council are being held from July 8 to July 10 under Russia's rotating chairmanship.