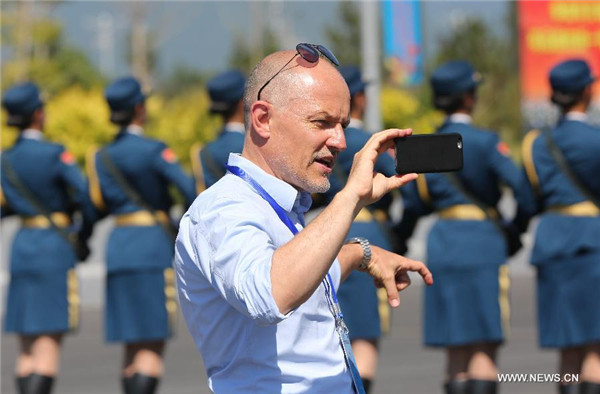 A reporter films with his cellphone at the parade training base in Beijing, Aug 22, 2015. More than 90 journalists of over 50 medias from home and abroad visited Beijing's parade training base where Chinese soldiers and military officers participate in training for the Sept 3 military parade in commemoration of the 70th anniversary of the end of WWII. [Photo/Xinhua]
BEIJING - Reporters from more than 50 domestic and foreign media outlets were invited Saturday to visit the training base for the upcoming Chinese military parade commemorating the 70th anniversary of the end of World War II.
More than 90 journalists attended the event, including those from The Associated Press, Reuters, Kyodo News Agency, Der Spiegel, El Pais, Korea Broadcasting Corporation and Singapore's Lianhe Zaobao.
Zhang Hongjie, a flag bearer in the parade, has taken part in several military reviews in foreign countries such as Russia, Mexico and Italy.
Zhang said he still remembered the warm handshakes and hugs with his foreign counterparts, and is thrilled to know that some of them will show up in China's parade slated for Sept. 3.
"We are comrades in arms during the international military parades," Zhang said. "Although we are different in color of skin, language and uniform, we share the same goal of pursuing peace."
Zhang said he hopes there will be military parades, but never will be wars.
"The Chinese soldiers are really doing a hard job in the sun," said Peter Trebitsch, a reporter with the Hungarian News Agency Corporation, at the training base. He covered Chinese military parades in 1999 and 2009.
Chinese people suffered great losses during WWII, so they need a strong army to safeguard peace and stability and never let the history of being invaded repeat again, he said.
"This parade will also let the world know better about the history of East Asia in WWII," Trebitsch said, adding that people can never understand the reality without knowing history.
The parade will include more than 10,000 Chinese troops, who will march past the symbolic Tian'anmen Rostrum in the heart of Beijing while close to 200 military aircraft fly in formations overhead.