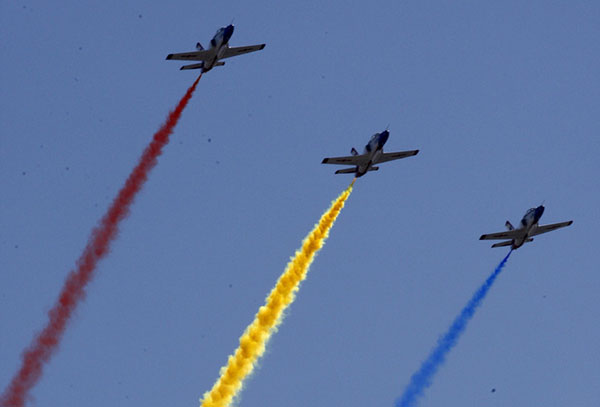 Chinese airplanes participate in a parade celebrating the 60th anniversary of the People's Republic of China close to the Tienanmen Square in Beijing in this Oct 1, 2009 file photo. [Photo/IC]
BEIJING - About 84 percent of the armament, to be showcased in the Sept. 3 military parade, has never met the public before, said a senior military officer on Friday.
The Army, Navy, Air Force, Second Artillery Force and Armed Police will all debut their new armament, said Qu Rui, deputy director of the Office of the Parade Leading Team and Deputy Chief of the Operations Department of the General Staff Headquarters.
All of the armament are Chinese-made, added Qu.
Qu said a total of 50 formations will parade through the Tian'anmen Square on Sept. 3 to mark the 70th victory anniversary of China's resistance against Japan and the world anti-Fascist war, including 11 foot formations, two mounted formations of veterans, 27 armament formations and 10 air echelons.
In total, 12,000 troops, 500 pieces of 40-odd types of equipment, and nearly 200 aircraft of 20 plus types will be demonstrated, he said.
The ground armament formations will be divided into six modules, including the ground combat, air defense and missile defense, maritime attack, strategic strike, communication support and logistics and armament support, said Qu.
Qu noted that the armament "represent the new development, new achievement and new image of the building of Chinese armed forces."
The ten air echelons include the air flag guard formations, the leading aircraft echelon, the airborne early warning and control (AEWC) aircraft echelon, the bomber echelon, the fighter echelons, the carrier-based aircraft echelon, the maritime patrol aircraft echelon, the refuelling and receiver echelon, and the helicopter echelon, according to Qu.