Japanese embassy 'disagrees' with newspaper account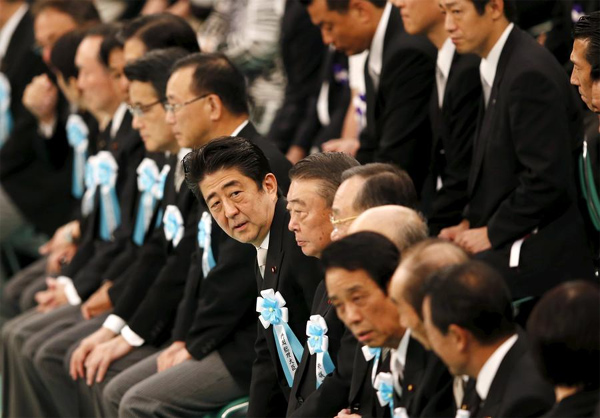 Japan's Prime Minister Shinzo Abe (C) attends a memorial service ceremony marking the 70th anniversary of Japan's surrender in World War Two at Budokan Hall in Tokyo August 15, 2015. [Photo/Agencies]
Some Japanese officials have dismissed media reports that said Japanese Prime Minister Shinzo Abe will start a visit to China on Sept 3, the same day as China's military parade in Beijing to mark the 70th anniversary of victory in World War II.
Chinese observers said that as political difficulties continue to cloud the two countries' relations, some Japanese media are eager for a publicity stunt to help Tokyo decide the best time to reveal whether Abe will come.
Japan's Kyodo News agency said on Monday: "Abe plans to visit China in September, and hopes to achieve a leaders meeting between Japan and South Korea this autumn. Coordinating efforts have been boosted, but obstacles remain."
A front-page story in Mainichi Shimbun on Tuesday quoted "multiple sources involved in diplomacy" as saying that "Prime Minister Shinzo Abe is set to visit China on Sept 3 to meet with President Xi Jinping".
The newspaper said Abe may arrive in the afternoon to avoid the parade in the morning, and "the two governments are finalizing consultations over the summit meeting".
However, Bloomberg reported later on Tuesday that "Japanese Foreign Ministry spokeswoman Takako Ito said by phone that nothing has been decided yet."
Also, Beijing Youth Daily said the Japanese embassy in Beijing "disagrees" with the details in the Mainichi report, and that there is no confirmation whether Abe will visit China or attend any kind of activity.
Zhang Jingquan, a professor of Northeast Asia studies at Jilin University in Changchun, said the Japanese reports show that Abe is still monitoring the situation and waiting for the best time to reveal his decision, and "imposing ambiguity is routine in Japan's political arena to maximize private benefits".
Abe "has been very sophisticated in dealing with China, South Korea and the United States", and he obviously is waiting for enough favorable conditions, Zhang said.
Gao Haikuan, vice-president of the China Society of the History of Sino-Japanese Relations, said Abe is possibly "playing a diplomacy card" to score more public support after his statement on Friday about WWII helped him regain 5 percentage points from his record low rating.
The plan to visit China was unveiled by media to impress people that "he is capable of surviving the existing political difficulty", but Abe may have miscalculated because "he has not brought substantial changes to his incorrect historical outlook", Gao said.