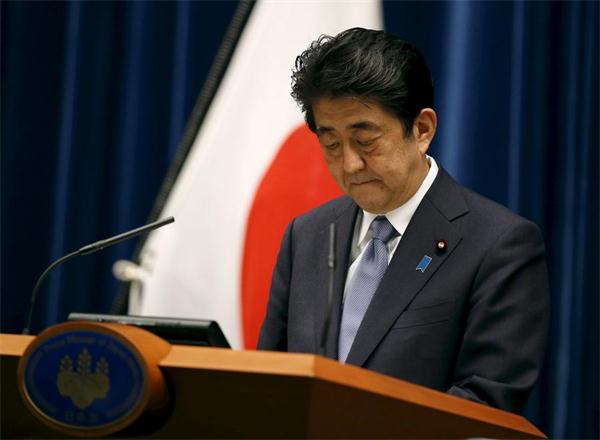 Japan's Prime Minister Shinzo Abe attends a news conference to deliver a statement marking the 70th anniversary of World War Two's end, at his official residence in Tokyo August 14, 2015. Abe, in a statement marking the 70th anniversary of World War Two's end, acknowledged Japan had inflicted "immeasurable damage and suffering" on innocent people but said generations not involved in the conflict should not be burdened with continued apologies. [Photo/Agencies]
Japanese Prime Minister Shinzo Abe took reluctant steps toward saying the right things in his speech on Aug 14 commemorating the 70th anniversary of the end of World War II. And despite not going far enough, he appears to believe that a few highly qualified and clearly limited expressions of polite regret can wipe clean Japan's historical debt toward China.
Does the moral universe or the memory of a people have a statute of limitations on war crimes? Can the murderous, horrific slaughter of 20 million people in China alone from 1937 to 1945, not to mention the enslavement of the Korean people for 35 years, be banished by 25 minutes of mumbled politeness?
Read superficially, Abe seemed to say all the right things: He expressed "profound grief" and offered "eternal, sincere condolences" for the dead. He acknowledged that Japan had inflicted "immeasurable damage and suffering" when it "took the wrong course and advanced along the road to war" all those years ago.
But what Abe clearly does not even remotely want to understand is that words are empty of value unless they are backed by deeds.
There should really be no surprise that a prime minister who has boosted Japan's annual government deficit and accumulated state debt to potentially catastrophic and record-breaking levels should also devalue language as shamelessly and recklessly as he is devaluing the public credit of his country.
Abe has pushed ahead consistently and relentlessly with policies to resurrect the Japanese armed forces and clear the way for their use far from Japanese territories and waters. Yet he clearly has no popular sanction of support in these efforts.
Opinion polls consistently show a strong majority of the Japanese people favoring retention of the famous and now hotly debated Article 9 of the postwar Constitution renouncing aggressive war. Also, it is no secret that the 81-year-old Emperor Akihito remains committed to defending that Article of the Constitution and the values it embodies, in striking contrast to the Japanese prime minister.
It is no coincidence that Abe is being strongly backed in his fateful course by the Barack Obama administration in the United States and by the usual gang of fake-macho, armchair warriors among the US' media pundits.
US policy toward Russia is sliding down an even more dangerous slope of bluff, bluster and warmongering. No surprise, therefore, that the architects of that insane policy should see nothing reckless or alarming about Abe's parallel belief in bluster and bluff in East Asia.
There is however, one striking contrast between the two cases: The US mainland was literally untouched by the terrible carnage of World War II - Pearl Harbor in Hawaii is about 3,200 kilometers from continental US. However, in 1945 the firebombing of 23 Japanese cities by the US Army Air Force and the dropping of the two atomic bombs on Hiroshima and Nagasaki brought home to the Japanese people in the most direct way the consequences of the crimes their leaders and military had committed.
The lesson stuck. That is why today, Abe is not bowing to popular opinion in pursuing his military policies: He is defying it.
There is tragically, no widespread sense of awareness yet among the American people of how dangerous their government's policies in Ukraine and toward Russia are. However, the Japanese people, like their emperor, appear much more understanding about the actions being taken in their name.
Let us hope, therefore, that traditional caution and the simple human sense of self-preservation may yet reassert itself in both Tokyo and Washington.
The author is a national columnist for the Post-Examiner online newspapers in the US and senior fellow of the American University in Moscow. He is the author of Cycles of Change: The Three Great Cycles of American History & the Coming Crises That Will Lead to the Fourth.