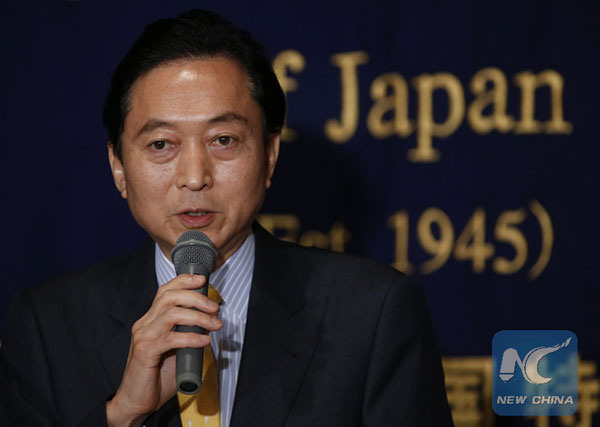 Japan's former Prime Minister Yukio Hatoyama is delivering a speech at a press conference in Tokyo, April 22, 2015. [Photo/Xinhua]
HARBIN - Japan's former Prime Minister Yukio Hatoyama said he expected current Prime Minister Shinzo Abe to face up to history, admit Japan's aggression and apologize to the victims during his statement marking the 70th anniversary of the end of the World War II.
Hatoyama made the remarks during an interview broadcast at a forum held in Northeast China's Heilongjiang province on Sunday, about a week ahead of the 70th war end anniversary.
War anniversary statements have always been closely monitored. But with the major anniversary and Abe's revisionist mentality, this year's is being watched even closer.
The video of Hatoyama was recorded on July 9 in the Hatoyama Hall in Tokyo, and was first publicized in Harbin, capital of Heilongjiang on Sunday.
In the video, the former prime minister said "I sincerely feel that wars are wrong, therefore I do not want them to reappear, and we should also frankly apologize to all war victims."
In 2013, Hatoyama went to the Memorial Hall of the Victims of the Nanjing Massacre by Japanese Invaders, becoming one of the very small number of Japanese politicians who have visited.
Hatoyama said "as descendants we must apologize to the war victims, for so many innocent lives were deprived by the Japanese troops, and we should directly express our genuine apologies."
As a country who was defeated, Japan should take its responsibilities and hold the right attitude, which means "until the victims say 'it's OK',we should keep apologizing," Hatoyama said. However, such a way of thinking is rare among Japan's politicians, he added.
A possible explanation is that if the leaders admit the crimes, they would have to compensate, and once the compensation started, it could become endless, Hatoyama said. But "I think it's wrong." he added.
"The issue has been dragging on for 70 years, and I feel deeply sorry for those victims," he added.
Although the Japanese Emperor Akihito did not use words such as "aggression" in a conversation about the war earlier this year, he has said it is necessary to restudy the history of war since the "September 18 Incident", Hatoyama added.
The 1931 incident marked the beginning of the Japanese invasion of northeast China.
The former Prime Minister said he agreed with Emperor Akihito, but unfortunately Prime Minister Shinzo Abe did not have the same idea.
Japan's role of "aggression" and "colonial rule" was clearly stated in the Murayama Statement, the landmark 1995 apology on the 50th war-end anniversary which was authored by the then Prime Minister Tomiichi Murayama, but Prime Minister Shinzo Abe seemed do not like it, "at least within a certain period." Hatoyama said.
The "Zhuo Jian" forum, where the video was shown, is a speaking platform in China that invites gurus to share their thoughts with the public.