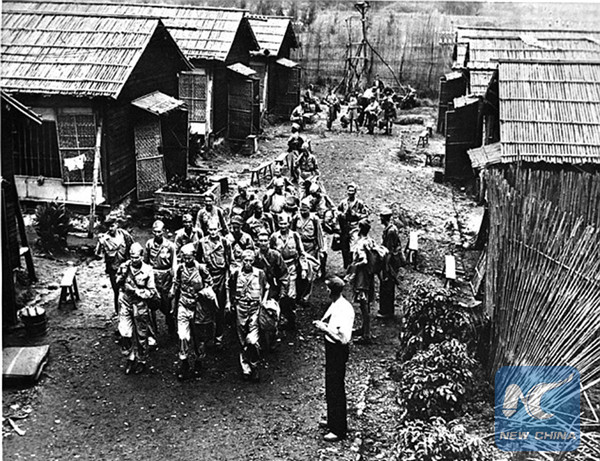 File photo of US POWs during WWII. [Photo/Xinhua]
Last February, a lawsuit was also filed in a Beijing court to seek compensation and apologies from Mitsubishi Materials and another Japanese company, which have not been positively responded so far.
Although Mitsubishi Mining provided a convincing example for Japan's enslavement of Chinese labors, it was only part of the country's wartime atrocities.
During the war, nearly 40,000 Chinese labors were forced to work in Japan by the Japanese military and businesses, and some 7,000 of them died in the country.
Ironically, Sunday's apology by Mitsubishi Materials was described by some Japanese media as a "new step toward post-war reconciliation" following Prime Minister Shinzo Abe's "deep remorse" on wartime history in US Congress in April.
While showing a humble face to the United States, Japan displayed its arrogance over Asian neighbors, especially China and South Korea that suffered the most from Japan's wartime atrocities.
In fact, Abe also failed during his speech to US Congress to mention Japan's aggression and colonial rule and to express his apology for the country's wartime brutalities.
As the whole world marks the 70th anniversary of the end of WWII this year, Japan should take it as an opportunity to deeply reflect on its wartime history, so as to clear up doubts and concerns from its neighbors and truly realize peaceful coexistence in the future.