Japan's Oscar-winning animator Hayao Miyazaki urged the Japanese government on Monday to maintain the country's 70-year-old principle of pacifism and to drop a controversial plan to build a replacement for a US air base on Okinawa.
Miyazaki, who also serves as a representative of the Henoko Fund, which supports Okinawa's efforts to stop the replacement, said he wants to convey the reality facing Okinawans, the problem of US bases and how local people want the bases removed.
As a pacifist, his concern is fixed on Prime Minister Shinzo Abe's policies on national security and history.
"That war of aggression was completely wrong, and we must express deep remorse over the tremendous damage we caused to the people of China. We must clearly state that we regret that," Miyazaki said. "I know there are many people who wish to forget that part of history, but we must never forget the senseless acts that Japan conducted in China over a long period of time."
As for the US bases, he said: "I believed what is very clear with the situation in Okinawa is that more than half of the population there is against the building of the new Henoko facility," adding that Okinawans will do everything in their power to stop the move.
The Japanese and US governments reached an agreement to build a replacement for the US Futenma air base in Okinawa prefecture, but the plan faces strong opposition from the prefectural government and residents.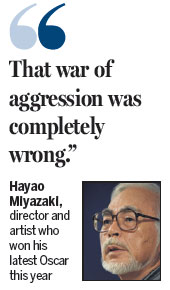 The prefecture accounts for less than 1 percent of Japanese territory but hosts a majority of the US bases in the country, which are becoming a major obstacle for local economic development.
Miyazaki said the base would only serve as a new target in conflict.
The retired director's concern echoes many Japanese scholars who worry that Japan would become a target of hostility if a series of security bills allowing the country's military forces to engage in armed conflicts overseas were passed in the parliament.
Abe is trying to ram through the bills in the current Diet session despite polls showing that the majority of the population opposes the legislation.
"I think the direction he is moving ahead is exact opposite of the direction he should be moving," the 74-year-old Miyazaki said.
Meanwhile, the prominent animator stressed that Japan waged a war of aggression against China and the historical facts are nonnegotiable, urging Abe to include Japan's reflection on the great suffering it brought to China in his statement next month to mark the 70th anniversary of the end of World War II.
Xinhua - AP