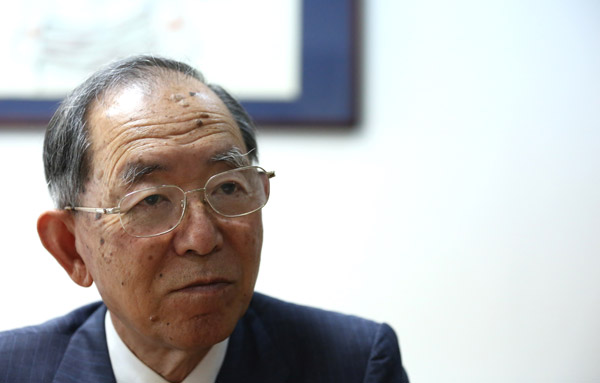 Uichiro Niwa, former Japanese ambassador to China. [Photo/Xinhua]
TOKYO - Tuesday marks the 78th anniversary of the Lugou Bridge incident, also known as the Macro Polo Bridge incident, which signaled the beginning of Japan's full-scale invasion of China.
78 years have rolled on, yet divergent views of historical issues keep haunting Sino-Japanese political relations.
Speaking on the issue, Uichiro Niwa, former Japanese ambassador to China, told Xinhua in an exclusive interview that the future is closely linked with the past.
"No matter how prosperous Japan describes the vision of its future to its people, it cannot win trust without recognition of the past history."
Niwa, who recently succeeded Koichi Kato as the chairman of the Japan-China Friendship Association, believed that disputes between the two countries over wartime historical issues are solvable ones.
"Japan has caused plenty of trouble to China. This is the reality no matter whether the government uses the word 'invasion' or not," Niwa said. "Prime Minister Shinzo Abe's administration should uphold the consistent stand like the previous governments, apologizing to victims countries whenever needed. Only on this base can we consider how to develop bilateral relations."
Abe is scheduled to release a landmark statement which marks the 70th anniversary of the end of Japan's surrender in WWII, with his historical perceptions attracting much global attention.
The prime minister is expected to highlight a future-oriented stance and refrain from including references to the terms " invasion" and "colonial rule" in his statement. Sources close to the matter also hinted recently that the statement may be downgraded to Abe's "personal view," instead of a cabinet sanctioned statement, out of consideration for China and South Korea.
Regarding this, Niwa, 76, thought that this kind of explanation is unacceptable. "As the prime minister of Japan, Abe's attitude not only represents himself, but also the government. Even though he's saying it's in the name of 'personal view,' he should not do whatever he wants."
Countries in the world, including China, are closely watching Japan's perception of history, especially at the point of the 70th anniversary of the end of WWII.