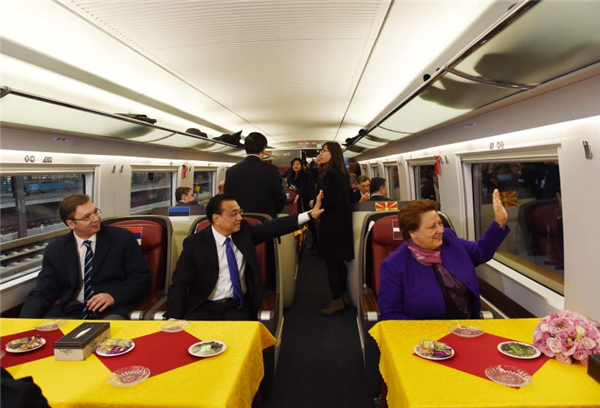 Premier Li Keqiang (C) sits with Serbian Prime Minister Aleksandar Vucic (L) and Latvian Prime Minister Laimdota Straujuma (R) on a CRH (China Railway High-speed) Harmony bullet train to Shanghai from Suzhou Railway Station after the Fourth Leaders' Meeting of China and Central and Eastern European countries, Nov 25, 2015. [Photo/Xinhua]
Wherever he goes, the Premier, always regarded as the country's top railway salesman, takes every opportunity to promote China's bullet train. Premier Li referred to cooperation between central and eastern European countries and China as a "high-speed train" and sent invitations to European leaders to join him in taking China's "comfortable and safe" high-speed train.
After a 22-minute trip, which covered 91 kilometers, the trained arrived at the Hongqiao railway station, where the Premier waved goodbye to the European leaders.