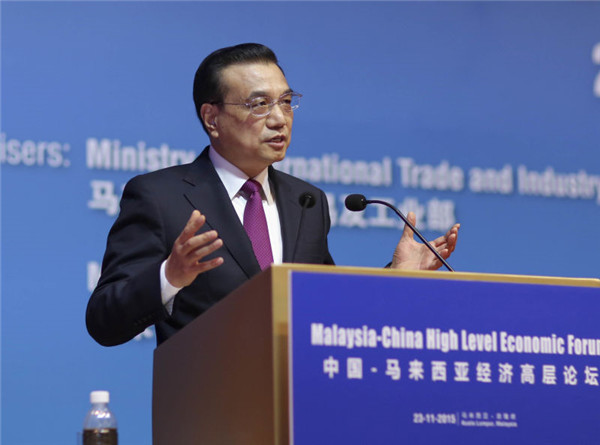 Chinese Premier Li Keqiang addresses the Malaysia-China High Level Economic Forum in Kuala Lumpur, Malaysia, Nov 23, 2015. [Photo/Xinhua]
KUALA LUMPUR -- Chinese Premier Li Keqiang on Monday urged Malaysian business leaders to grasp the opportunity to make fresh contributions to the growth of bilateral ties in politics, economy and culture.
Li, paying his first official visit to Malaysia as premier, was referring to a deal sealed on Sunday between China and the Association of Southeast Asian Nations (ASEAN) to upgrade their free trade area (FTA).
The development, bringing China-ASEAN economic relations to a higher level, is of milestone significance, Li told representatives of the Malaysian business circle.
China and Malaysia have compatible development strategies, Li noted.
China has been striving to foster new growth engines by mobilizing the innovative capability of the people, which calls for the engagement of both large and small- and medium-sized enterprises.
China and Malaysia could build a platform to promote cooperation among their small- and medium-sized enterprises, Li said.
Meanwhile, the Chinese premier also pledged to join hands with Malaysia to stabilize the financial market, provide facilitation and stable expectations for two-way investment and financing so as to promote the development of bilateral trade and economic relations.
The Malaysian business leaders, for their part, said they support and stand ready to participate in the docking of China's Belt and Road Initiative and Malaysia's development strategies.
They also expressed hopes for an early conclusion of negotiations on the Regional Comprehensive Economic Partnership (RCEP), a proposed collective FTA between ASEAN and six countries with which the bloc has individual FTAs: Australia, China, India, Japan, New Zealand and South Korea.