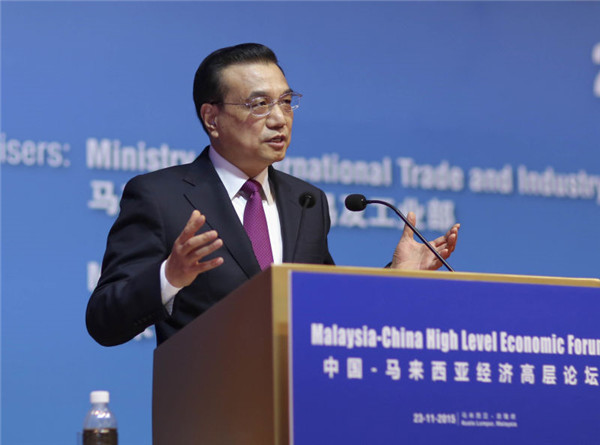 Chinese Premier Li Keqiang addresses the Malaysia-China High Level Economic Forum in Kuala Lumpur, Malaysia, Nov 23, 2015. [Photo/Xinhua]
Premier Li Keqiang used a Chinese poem and a type of Malaysian cuisine to describe China-Malaysia ties in a speech at an economic forum on Nov 23 in Kuala Lumpur, calling for expanded cooperation and exchanges between the two countries.
Recalling a well he saw while visiting Zheng He Museum in Malacca a day earlier, the surface of which was engraved with a pattern of a moon, the Premier said the pattern embodies a line from a Chinese poem, "a waterfront pavilion gets the moonlight first."
As neighbors facing each other across the sea, China and Malaysia can have more profound cooperation benefiting both, said Premier Li, adding that he believes China's future development and domestic demand can bring more business opportunities for Malaysia.
The Premier also likened bilateral ties to the famous Malaysian Nonya cuisine. He said the cuisine, blending flavors from Chinese and Malaysian food, reflects the profound integration of the two countries.
China is willing to open a wider door to Malaysia, said Premier Li, adding that the two should upgrade comprehensive and multilevel exchanges to jointly cook a delicious "feast" of pragmatic cooperation.