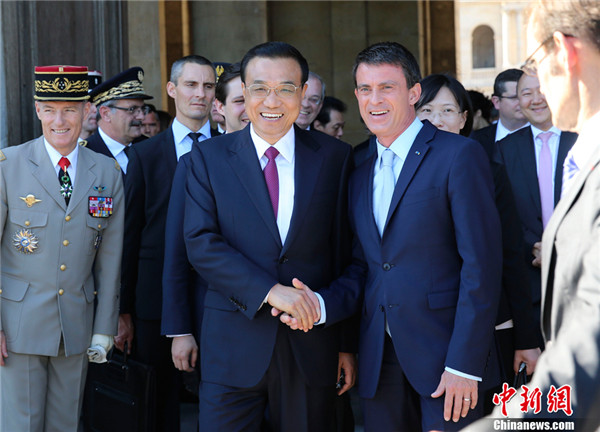 Chinese Premier Li Keqiang (L) shakes hands with French Prime Minister Manuel Valls (R) during a welcoming ceremony at the Hotel National des Invalides in Paris, France, June 30, 2015. [Photo by Liu Zhen/China News Service]
The French side, he said, appreciated China's actions in tackling climate change and is grateful for its efforts in working with France to prepare for the 2015 Paris climate change conference.
A landmark multi-billion-dollar deal was inked between the two countries during Li's visit after China placed a landmark order on Tuesday for dozens of wide-body jets from Airbus, includes a definitive purchase of 45 A330 aircraft, worth at least $11 billion at list prices, plus plans for a possible further 30 worth about $250 million each.
Sources familiar with the discussions had told Reuters last week that China may purchase around 50-70 of wide-body jets in a breakthrough planes-for-investment deal.
Airbus has been negotiating for about 18 months to establish a cabin-completion centre for wide-body aircraft in China alongside its existing final assembly plant for smaller A320 jets at the northern port city of Tianjin.
Fabrice Bregier, chief executive of the plane making unit of Airbus Group, said Airbus would press ahead with the project, which is expected to cost around 150 million euros ($167 million).
"We are going to launch the project. I think we have a good base. We hope to have more orders in the future, but it's a project which makes a lot of sense and which gives us an advantage against our competition," Bregier told Reuters.
The agreement to build a plant capable of fitting out 2 A330s a month is due to be signed during a visit to Toulouse by Li on Thursday.