Meeting of minds shows how big player in Europe is now helping shape continent
Normandy, in northern France, a region that was key for the Allied victory in Europe in the World War II, will long be remembered by connecting its regional development agenda with China's One Belt, One Road Initiative. At the China-Normandy Forum on June 12 in Rouen, French Foreign Minister Laurent Fabius, Chinese Ambassador to France Zhai Jun and other speakers said such synergy could help tap great potential for bilateral collaboration.
At the event, held as Chinese Premier Li Keqiang prepares to visit Europe, Fabius said that France has been at the forefront in echoing Beijing's proposals. He urged the French people not to miss the opportunities offered by China, which has launched another round of development and reform.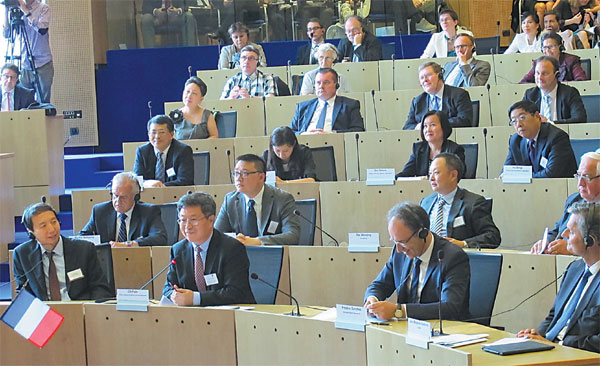 Representatives of Chinese and French companies on June 12 in Rouen, where they discussed investment opportunities in food security and green commuting. Photos by Gao Shuang / China Daily
During the previous two or three years, China has been determined to restructure its economy by lowering the pace of development, curbing pollution and fighting against corruption. A key initiative is the Silk Road Economic Belt and the 21st Century Maritime Silk Road to beef up regional cooperation.
To facilitate these programs, China has set up the Asian Infrastructure Investment Bank and the Silk Road Fund, which are conduits for multi-billion-dollar investments from China.
"All these efforts have created tremendous opportunities for China and France to work together at a bilateral level," Zhai said. "And we can even explore more opportunities with third parties."
Zhai indicated that through expanded bilateral cooperation, the two partners can take advantage of each other's strengths, and use that synergy in Africa and other developing regions.
Chi Fulin, president of the China Institute of Reform and Development, said the Belt and Road Initiative aims to more closely bridge the well-developed economic circle of Europe and the vibrant economic circle of East Asia through deepening interconnectivity.
In his keynote speech, he said Normandy used to be a vital node in Europe for the ancient Silk Road and the Maritime Silk Road; it was also one of the most important hubs for trade and cultural exchanges between China and Europe.
"Today, Normandy still has a pivotal role to play in Europe and Asia jointly building the Belt and Road," Chi said.
Businesses from China and France are expressing great interest in these opportunities.
Leevon Tian, business development manager of BYD Europe BV, a branch of the large Chinese company that specializes in information technology, motor vehicles and new energy, said China and Europe should tap the potential in the application of green technologies.
BYD's development strategy focuses on renewable energy production, energy storage (battery energy storage systems) and green pubic transport (electric buses), he said.
"Since 2012 we have been emphasizing the promotion of e-mobility such as electric taxis and electric city buses. We have recommended our e-mobility plan to 47 cities, including Paris, and four of them have already adopted our electric taxi plan."
Tian said his company aims to provide European cities with answers to help reduce carbon emissions by 2020. "France is an important market for us because technically it's very attractive, while it has enormous potential in terms of a market for sales as well."
However, French producers are highly competitive, he said, making it a difficult market to break into.
"Another challenge is that France is really proud of its own production and according to statistics, there are few products from foreign producers," he said.
Wei Wenqing, executive of China's Dongfeng Motor, said collaboration between Dongfeng and the French car industry dates back to 1992, when Dongfeng started working with Citroen. Dongfeng is second among automakers in China in its degree of collaboration with France.
"We highly value the concept of energy conservation and environmental protection, and have developed our own research and development center emphasizing electric motors and electromagnetism," he said.
The development of electric cars in China is rapid, with year-on-year growth last year of 300 percent. Thus, there is a promising market for green commuting.
"It is essential that the French and Chinese motor vehicle industries exchange and share ideas," he said.
However, the development of green commuting has a long way to go, and Wang said one of the priorities is to compare different charging standards for electric cars inside and outside the European Union and set a unified charging standard to make the promise of global e-mobility a reality.
Vincent Carre, Renault SA's sales and marketing director of its electric cars department, said collaboration with China plays an essential role in terms of exploring the green commuting market.
"We have been working with Dongfeng, trying to increase the endurance of the battery for electric cars," said Carre. "We would like to further deepen the cooperation with Chinese partners in searching for a better solution for batteries, and welcome everyone's cooperation."
As one of the biggest producers of electric cars, Carre said Renault has the best technology and advanced experience that can be offered to Dongfeng. "We are looking forward to producing electric cars together through our joint efforts," he said.
Martial Belhache, chairman of the Test Center for Vibration-Acoustic Reliability in France, said that under the New Silk Road initiatives, his center is working with four Chinese companies.
"We offer a lot of training programs, for example, though sharing our experience and new technology knowledge, and we help them to improve the design of their cars' interfaces," said Belhache.
Throughout the whole industrial chain, Belhache said, the collaboration with Chinese companies is top level, which means both do scientific research and detect possible problems.
Jean-Noel Guillot, project director of Electricity of France, a utility company largely owned by the French government, said regional infrastructure construction plays a vital role in developing green commuting. Reasonable city planning and city transportation planning are crucial. "We also focus on renewable energy solutions and operate a research and development center in Beijing that aims to study how to develop renewable energy inside cities and how to better allocate charging facilities," said Guillot.
(China Daily European Weekly 06/19/2015 page16)