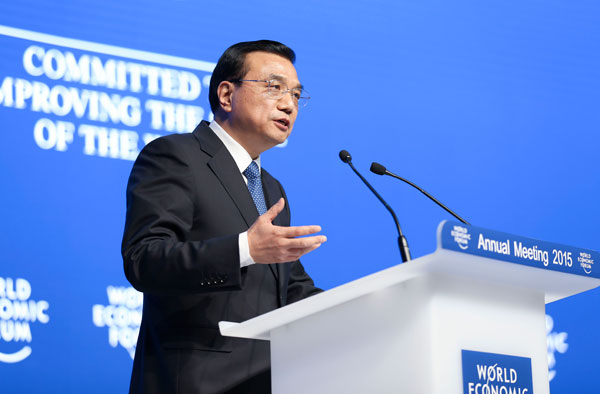 Premier Li Keqiang addresses the World Economic Forum's annual meeting in Davos on Wednesday. LIU ZHEN / CHINA NEWS SERVICE 
Premier's speech in Davos welcomed by global business leaders, analysts
China plans to withstand downward pressure and continue with its strategic focus in 2015, Premier Li Keqiang told the annual World Economic Forum in Davos.
As the Chinese economy has entered a "new normal", the change in the pace of growth from high-speed to medium-to-high-speed reflects a profound adjustment of the world economy, and is consistent with the law of economics, Li said in a keynote speech on Wednesday.
He said China must use the government and the market properly and give full scope to both traditional and new engines of growth.
"To foster a new engine of growth, we need to encourage mass entrepreneurship and innovation, and mobilize the wisdom and power of the people," the premier said.
"China will encourage its companies to explore the international market, and work for common development
with other countries through greater openness toward each other."
Li also said, "To transform the traditional engine of growth, we need to focus on increasing the supply of public goods and services, and strengthening the weak link of the economy."
His comments were welcomed by global business leaders and analysts, who agreed that the Chinese economy is not heading for a hard landing. They also said Li's remarks will give the world more confidence.
Thomas Wagner, former mayor of Zurich, told China Daily, "China as a global power already plays an important role in the world, economically and politically.
"China has increasingly become an indispensable stabilizing partner in our globalized world.
"Structural reforms in many sectors, the encouragement of efficient management, and the enhancement of the rule of laware the basic principles to resolve economic stagnation,"Wagner said.
Bart Dessein, aprofessor at GhentUniversity in Belgium, said Li's speech was reassuring, adding that the premier emphasized that China is entering a phase of "newnormal" growth — not as fast as previously, but more qualitative."Such a new qualitative growth path needs international collaboration."
Virginie Morgon, deputy CEO of Eurazeo, a leading French investment company,said, "It is very clear that the Chinese economy is shifting to more valueadded,more innovation, and more brands.
"As a professional investment company, we started operations in China to help our portfolio companies enter the Chinese market or accelerate their rollouts in Asia. The potential for business opportunities in China is enormous, and we are focusing on long-term cooperation with China."
Rana Mitter, head of the China Center at the University of Oxford, said, "China is still a tremendously important target for global investment and trade.
"Trading services into China will become an important part of the 'new normal' and it is vitally important that China opens its markets to allow overseas providers in to stimulate competition and drive up quality."