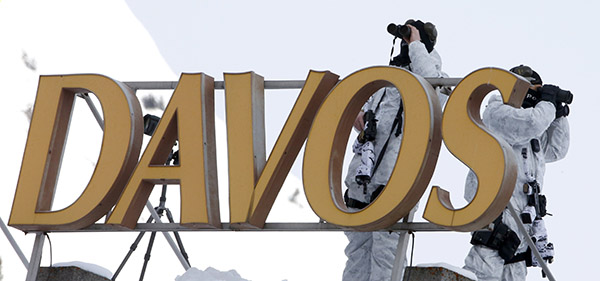 Swiss special police officers observe the surrounding area from atop the roof of the Davos Congress Hotel in the Swiss mountain resort of Davos January 20, 2015. [Photo/Agencies]
BEIJING - An 80-plus-strong Chinese delegation comprising high-ranking government officials, business elites and prominent academicians is set to attend the upcoming Annual Meeting of World Economic Forum (WEF) to share "Chinese wisdom" with the world.
The WEF meeting, scheduled for Jan. 21-24 at Davos in northeastern Switzerland, will explore solutions to major global challenges under the theme "The New Global Context".
It is expected to draw a record-breaking 2,500 participants from more than 140 countries and regions, including over 40 heads of state and governments, who will attend some 280 sessions and workshops to exchange views on a wide range of issues.
In a recent post on WEF's official page on Wechat, organizers used ten numbers to epitomize the key features of this year's meeting, and the "participation of over 80 Chinese" was one of them.
Representatives from the Asian economic heavyweight include government delegates led by Premier Li Keqiang, the country's most influential business leaders such as Alibaba founder & chairman Jack Ma and Huawei CEO Ren Zhengfei, as well as internationally renowned scholars such as former World Bank chief economist Justin Lin Yifu.
It will be the first time for a Chinese leader to attend a WEF annual meeting in Davos in five years. Li attended the 2010 annual meeting in his capacity of vice premier.
At the upcoming meeting, Li is expected to deliver a key-note speech to send the world a clear message of confidence in the prospects of the Chinese economy and other emerging economies in face of the unabated global economic headwind.
He will also share his views on how to address the current global economic situation to generate strong, sustainable, balanced and inclusive global growth, according to the Chinese foreign ministry.
Such a high-profile Chinese presence at the Davos meeting is an indication of the Asian giant's growing engagement with the world and its strong initiative to help set the global economic agenda.
In recent years, China has demonstrably and significantly extended its global outreach to contribute Chinese wisdom not just to the development of the global economy, but also to global governance.
By raising new concepts such as "the Chinese Dream", "the community of common destiny," and taking such initiatives as "a new type of major-country relationship" and "One Belt and One Road," China is trying to help shape a new world.
Experts believe China will continue generating opportunities to the world economy, and speak highly of its constructive role in global governance.
In an interview with Xinhua, Klaus Schwab, founder and executive chairman of WEF, said China is attracting more and more global attention given its growing weight in global matters.
"The interest in the country (China)'s political path, economic development and the evolution of its social model is growing around the world as well," he said.
Echoing its main theme, the WEF meeting will devote a special session, dubbed "The New China Context", to the discussion of China's economic "new normal" and its implications for the world economy, according to a program released on the official website of the Geneva-based organization.
A latest WEF report entitled "Global Risks 2015" highlights the creation of the new BRICS (Brazil, Russia, India, China and South Africa)development bank and the Asian Infrastructure Investment Bank, which reflect China's active role in reshaping the world economy.
"Much as a retreat from global multilateralism is worrisome, stronger regional multilateralism is not necessarily a bad thing, as regional solutions to regional problems can be consistent with global governance structures," said the report.
Amid ongoing significant and rapid changes in the world's political, economic, social landscapes, there is a close link between China's development and "The New Global Context", noted Wu Hailong, China's ambassador to the United Nations Office in Geneva.
With its recent proposals and initiatives, China, which is getting closer and closer to the world, will make positive contributions to the world's response to "The New Global Context", he added.