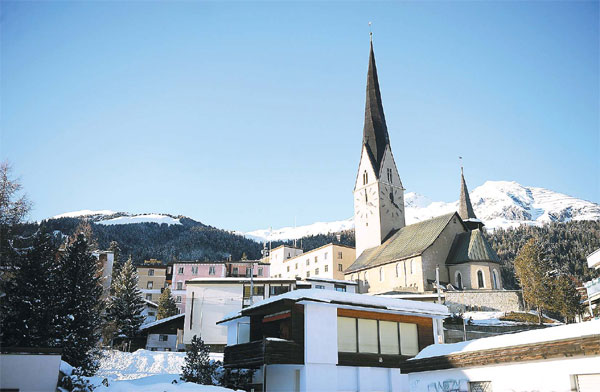 This year's World Economic Forum will take place from Jan 20 to Jan 24 in Davos, Switzerland. Yu Yang / Xinhua
The rise of China has been dominating the agenda of the annual meeting of the World Economic Forum in Davos, Switzerland, for the past couple of years and, according to some observers, it will continue to do so this year.
There is every reason for the European Union, still at the risk of entering its third recession since 2008, to top the agenda at Davos 2015. This should be the case especially because the EU is passing through a phenomenal month thanks to economic factors and much more.
Panic, fear, complaints and nervousness are once again rising among the EU public and leadership because of four factors.
First, on Jan 7 three gunmen attacked the offices of satirical French magazine Charlie Hebdo in Paris and gunned down 12 people. In the next days, two of the attackers, four shoppers and another terrorist suspect were killed in the French capital. Belgium has beefed up security to thwart any terrorist attack, and other member states of the EU, including Germany, have raised their security levels because of their somewhat aggressive foreign policies and to protect freedom of expression without exhibiting corresponding respect for other cultures and faiths.
Second, the shocking happenings were followed by the central bank of Switzerland unexpectedly scrapping a cap on the Swiss franc-euro rate, which caused the euro to drop as much as 30 percent against the Swiss franc on Jan 15 - possibly the highest single-day movement in the history of the foreign exchange market. This will make life immensely difficult for Swiss exporters.