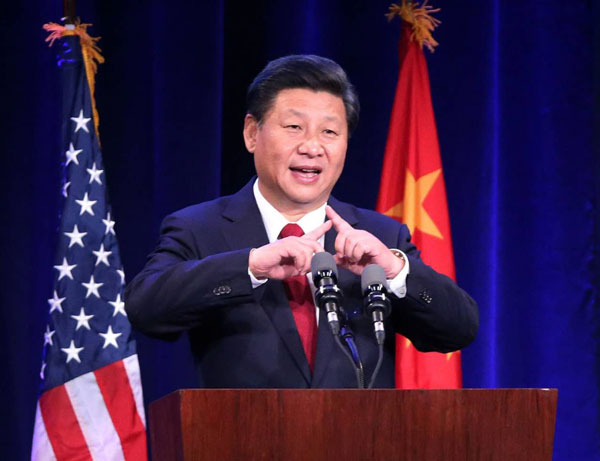 Chinese President Xi Jinping delivers a speech during a welcome banquet jointly hosted by Washington State government and friendly communities in Seattle, the United States, Sept. 22, 2015.[Photo/Xinhua]
China's hectic diplomatic year saw President Xi Jinping spend 42 days conducting eight trips abroad, as China's proposed economic initiatives bore fruit and resulted in ever-increasing recognition of the country's enhanced global role.
The initiatives included the Belt and Road Initiative and the Asian Infrastructure Investment Bank, both of which won widespread acclaim.
China's entry into the special drawing rights currency basket of the International Monetary Fund in November also reflected the growing strength and influence of the world's second-largest economy.
When asked about China's diplomatic highlights over the past year, senior diplomats and experts noted China's greater say in issues of global importance, especially on the economic front.
Many referred to London's role in the process as Britain took the lead among Western countries in joining the Asian Infrastructure Investment Bank despite US objections, and it responded positively to the Belt and Road Initiative.
Foreign Minister Wang Yi said, "China's status and influence in the international community are undergoing obvious changes".
"I think this important development in China-UK relations actually indicates the development of China's relations with Western countries," Wang said while summarizing the diplomatic year on Dec 20 during his visit to Cyprus.
Chen Fengying, a senior researcher of the world economy at the China Institute of Contemporary International Relations, said London's endorsement of the AIIB and arrangement of Xi's visit to the UK in October have "served as ice-breaking steps in China's cooperation with Western countries".
"China, when shouldering its duty as a major country and an emerging economy, has been working on resolving problems and proposing designs for new mechanisms and frameworks," Chen said, adding that this has also won the recognition of the International Monetary Fund and the World Bank.