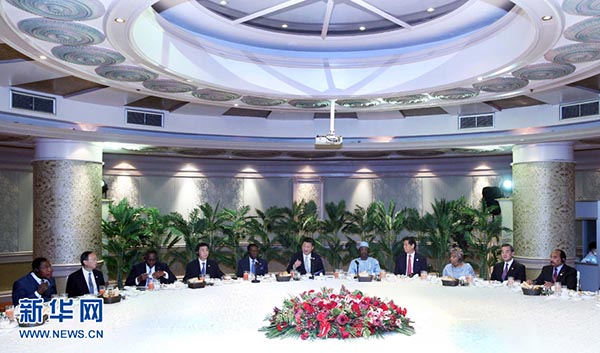 China and Africa enjoy a long history of traditional friendship. China's founding leaders Mao Zedong and Zhou Enlai and the older generation of African leaders broke new ground for China-Africa relations with mutual support.
From Dec 14, 1963 to Feb 4, 1964, Premier Zhou Enlai headed a delegation to pay official visits to ten African countries, making the first trip to establish a new relationship in China's diplomatic history. From Dec 1 to 5, 2015, Chinese President Xi Jinping paid a state visit to Zimbabwe and South Africa and chaired the Johannesburg Summit of the Forum on China–Africa Cooperation (FACOC), which supports new international relations between China and Africa based on mutual benefits.
At the Summit, President Xi, 50 heads of state, heads or representatives of government and chairman of African Union (AU) Commission spoke glowingly of China-Africa friendship, planned for the development of strategy, opening the new era of China-Africa win-win cooperation and mutual growth and breaking ground for relations.
The summit approved The Declaration of the Johannesburg summit of FACOC and FACOC: Johannesburg Plan of Implementation (2016-2018), acting as the framework document for guiding China-Africa friendly relationship under new circumstances.
In face of the international situation of changes and opportunities, risks and challenges, Xi made a solemn pledge that the China-Africa brotherhood of equality, mutual trust and support would not change, the basic goal of cooperation, mutual benefits and development would not change, the collaborative spirit of mutual understanding and progress would not change, and strong will of pulling together and acting in unity would not change.
The four "would not change" demonstrates Beijing's sincerity to develop China-Africa relations, speaks out China-Africa's common aspirations to defend global peace, promote global development and prosperity and help build new international relations based on mutual benefits.
Chinese and African leaders agreed to lift the Sino-African relationship to a comprehensive strategic cooperative partnership featuring political equality and mutual trust, win-win economic cooperation and civilization exchanges, close ranks and help each other in security, and cement unity on international affairs with the entire Africa.
Xi announced the "10 major plans" in cooperation with Africa in the coming three years, covering the areas of industrialization, agricultural modernization, infrastructure, financial services, green development, trade and investment facilitation, poverty reduction and public welfare, public health, people-to-people exchanges, as well as peace and security.
Beijing provided $60 billion of funding to guarantee implementation of the plans, which injected more impetus for vital Sino-African relations.
Fruitful results were achieved at the Johannesburg summit. The upgrade of relations and cooperation framework laid a solid foundation for development of Sino-African relationship. The summit marked a new milestone and opened a new era for Sino-African relations.