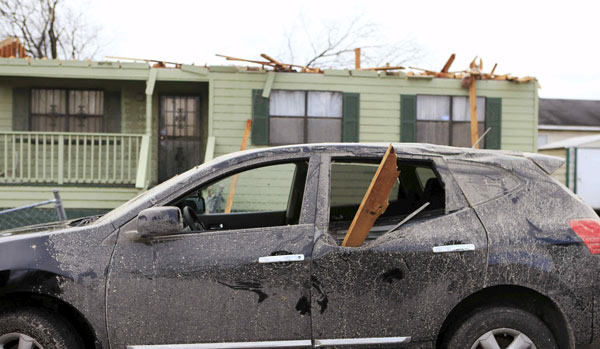 Damage caused by a tornado is seen in a neighborhood in Birmingham, Alabama, December 26, 2015. [Photo/Agencies]
HOUSTON - A state of emergency has been declared in some southern US states on Sunday after severe weather, including tornadoes, has been sweeping through the states since Saturday night and killed more than 40 people.
In Texas, Governor Greg Abbott made disaster declarations on Sunday for four counties -- Dallas, Collin, Rockwall and Ellis -- and warned that the number of victims could rise, according to local media reports.
"Texas is doing everything we can to help you piece your lives back together and deal with the challenges you are facing right now," he said, adding the Lone Star state is still facing rain and the possibility for more tornadoes.
Eleven people died in the state after several tornadoes were reported in the Dallas area, causing substantial damage to homes and buildings and sending dozens to the hospital.
Most of the deaths being reported were caused by accidents as tornadoes blew the vehicles the victims were riding in off highways during the storms.
Powerful wind of up to 300 km per hour was recorded for the city of Garland.
Weather service officials said a tornado of that strength is very rare in a metropolitan area. In addition, powerful tornadoes usually hit in spring and summer but occur less frequently in winter.
In neighboring New Mexico state, Governor Susana Martinez declared a state of emergency on Sunday as people in the state dealt with the fallout of a crippling weekend snowstorm.
The hard-hitting storm system brought wind gusts of up to 80 km per hour and created snowdrifts in the 1.8- to 2.4-meter range in the eastern and southern portion of New Mexico.
New Mexico state troopers had responded to about 250 vehicular accidents in the previous 24 hours and crews were working around the clock on clearing roads and conducting any needed search-and-rescue operations.