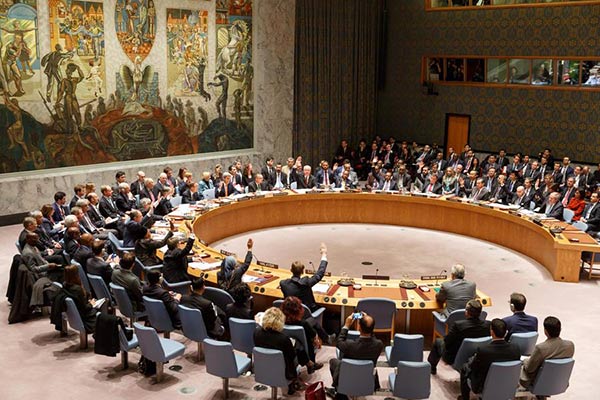 A meeting of the nited Nations Security Council at the UN headquarters in New York, on Dec 18, 2015. [Photo/Xinhua]
UNITED NATIONS - The UN Security Council on Friday unanimously adopted a resolution to urge the launch of the Syria peace talks in early January, stressing that "the Syrian people will decide the future of Syria."
The latest UN document, which is legally binding, paves the way to maintaining the political momentum in the Syria peace process.
The council resolution endorses what has been achieved by the international diplomatic efforts in Geneva, Vienna and New York over the past years in a bid to bring an early end to the conflict in Syria, where more than 300,000 people have been reportedly killed since March 2011.
The Geneva Communique, which was agreed upon in June 2012, for one, is endorsed once again by the 15-nation UN body Friday as it has been long seen as the basis for a political solution to the Syria crisis.
After rounds of diplomatic talks, the international community has reached a consensus that the political transition in the Middle East country should be owned and led by the Syrian people themselves. To bring this roadmap into reality, the world community should spare no efforts to create a favorable environment.
The positive political momentum is better maintained after the world powers all agreed in New York earlier Friday that a political solution, rather than a military one, should be sought to end the Syria crisis.
Indeed, it is imperative that the Syria crisis, which lasted for nearly five years, should be settled through political means, as the military solution can not help address the root causes of the Syrian problem in the long run, and only the Syrian people, such as representatives of the Syrian government and opposition, can do it should they sit down together to decide the fate of their country.
In the Syrian case, the international efforts to seek the political settlement fully complies with the purposes and principles of the UN Charter.