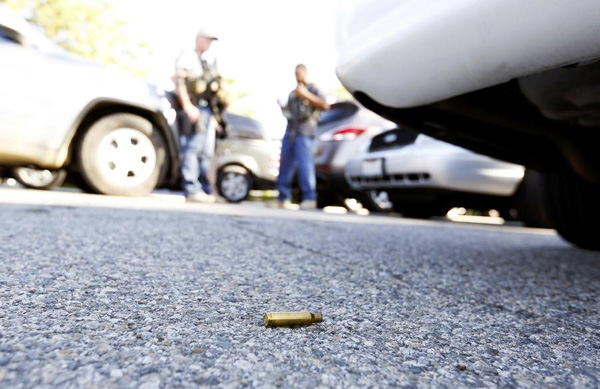 Spent cartridge lies on the ground as police officers secure the area after a couple opened fire at a social services agency in San Bernardino, California, Dec 2, 2015.[Photo/Agencies]
WASHINGTON -- US President Barack Obama on Saturday held a phone conversation with his French counterpart Francois Hollande on the recent shooting rampage in San Bernardino, California, while pledging continued US-France cooperation on fighting terrorism.
Obama briefed Hollande on what the US knew about the attack and steps taken by US intelligence and law enforcement agencies to investigate the case, the White House said in a statement.
A couple armed with assault weapons on Wednesday opened fire at a Southern California social services center, killing 14 people and injuring 21 others.
The motive for the shooting remained unknown, but US Federal Bureau of Investigation announced Friday it was now investigating the case as an act of terrorism. It was found that Tashfeen Malik, the female shooter, had pledged allegiance to the extremist group Islamic State (IS) on social media.
Obama accepted condolences that Hollande offered to the US people for the loss of life in the attack, the White House said.
The two leaders "pledged continued cooperation between our two governments and with those of our allies and friends to fight terrorism, both abroad and at home," the White House added.
The two presidents just held a summit on Nov. 24 at the White House after the Nov. 13 massive terror attacks carried out by the IS in Paris, in which 130 people were killed and more than 350 others were wounded.
They vowed to boost cooperation on fighting terrorism, expressing the determination to destroy the IS, which has taken over swaths of land in Iraq and Syria. The US-led coalition, which includes France, has been launching airstrikes against IS targets in the region.