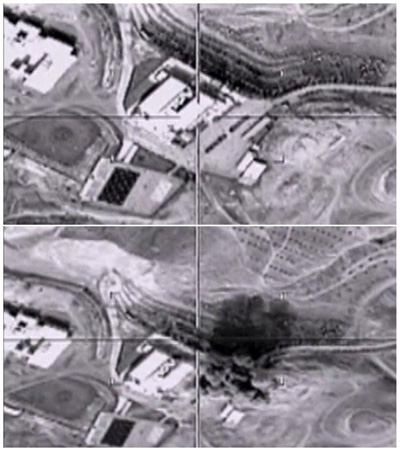 A combination of frame grabs taken from footage released by Russia's Defence Ministry October 9, 2015, shows what Russia says is a target site near Raqqa, Syria, before (top) and after airstrikes (bottom) carried out by the Russian air force on headquarters of Liwa Al-Haqq militant group. Russia's air force hit 60 Islamic State targets in Syria over the past 24 hours and killed around 300 militants, the Defence Ministry said on Friday, in Moscow's most intense raids yet since it first launched strikes on Syria 10 days ago.  [Photo/Agencies]
CALL TO ARMS
British air strikes are unlikely to change the military balance, given the United States is already involved, but the vote handed Cameron the chance to show Britain's willingness to add to a Western consensus for taking the battle to militants in Syria.
Cameron said high-precision, laser-guided Brimstone missiles would help to make a real difference by hitting the de facto Islamic State capital of Raqqa and its oil-trading business.
The vote also boosts Cameron after he suffered a humiliating 2013 parliamentary defeat over plans to bomb Assad's forces.
But it is a blow to the leader of Britain's main opposition Labour Party, Jeremy Corbyn, who was against launching the air strikes.
Corbyn, a veteran anti-war campaigner who argued the bombing would be ineffective and kill civilians, was forced to allow his lawmakers to vote according to their conscience in order to quell a rebellion in his party over the military action.
Corbyn had hoped media reports that Cameron told Conservative lawmakers at a meeting late on Tuesday not to vote with the Labour leader "and a bunch of terrorist sympathisers" would harden opposition to the action.
But many of his party voted with the prime minister, a move which may bring into question Corbyn's leadership.
The British public is divided over launching the strikes, with a YouGov opinion poll showing voter support for action in Syria had fallen to the lowest level since September 2014, with 48 percent of respondents supporting strikes and 31 percent against.
Those opposed to air strikes recalled the events of 2003 when Britain helped the United States to invade Iraq after asserting - wrongly, as it later turned out - that dictator Saddam Hussein possessed weapons of mass destruction.
Julian Lewis, Conservative chairman of the Commons Defence Committee and a critic of extending air strikes to Syria, said the government was in denial about the effectiveness of bombing without deploying viable ground troops.
Lewis compared Cameron's assertion that there are as many as 70,000 moderate opposition fighters in Syria with the "dodgy dossier" on Iraq's military capabilities.
"Instead of dodgy dossiers, we now have bogus battalions of moderate fighters," he said.