LONDON - Britain's parliament voted on Wednesday to launch bombing raids against Islamic State in Syria, supporting Prime Minister David Cameron's case that the country needs to help destroy militants who are "plotting to kill us".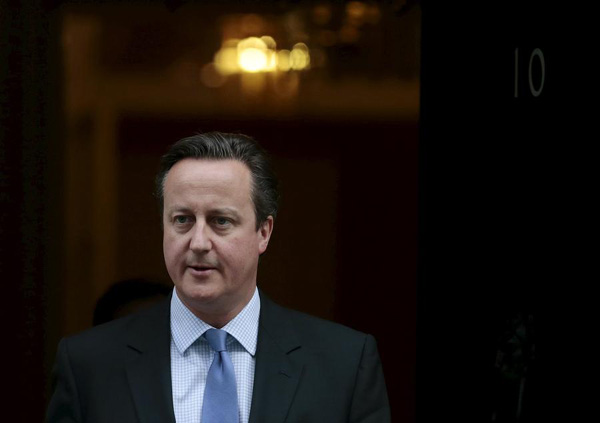 Britain's Prime Minister David Cameron leaves Downing Street in London, December 2, 2015. Britain's parliament is likely to vote on Wednesday to approve air strikes against Islamic State militants in Syria after months of wrangling over whether enough opposition Labour lawmakers would back military action. [Photo/Agencies]
After more than 10 hours of tense debate, lawmakers voted in favour of air strikes, by 397 to 223. British Tornado GR4 bombers could leave an air base in Cyprus within hours to launch the country's latest military action in the Middle East.
Given Britain's diminished role on the world stage, the victory hands Cameron the chance to restore Britain's standing in global affairs. He had urged lawmakers not to turn their back on allies such as France in their time of need.
"Britain is safer tonight because of the decision that the House of Commons has taken," foreign minister Philip Hammond told Sky News.
Many British voters are wary of being dragged into another war in the Middle East. Some view Western intervention in Iraq and Libya as a failure that sowed chaos across the region and the news of the vote was met by howls of disgust by dozens of anti-war protesters demonstrating outside parliament.
But the Nov. 13 attacks on Paris that killed 130 people and were claimed by Islamic State have stiffened the resolve of some lawmakers and divided the opposition Labour Party, which convinced Cameron he could win the support of parliament for extending air strikes beyond Iraq.
Cameron said the more than four-year Syrian civil war could not be resolved by military action alone, but that the strikes would "degrade" Islamic State militants - which he said should be called Daesh.
Daesh is the pejorative word used by opponents or people who do not support Islamic State to refer to the jihadist group.
"These terrorists are plotting to kill us and to radicalise our children right now. They attack us because of who we are, not because of what we do," Cameron told a packed House of Commons, where many lawmakers sat on steps or stayed standing.
"The question is this: do we work with our allies to degrade and destroy this threat, and do we go after these terrorists in their heartlands, from where they are plotting to kill British people, or do we sit back and wait for them to attack us?"
Germany's parliament is also expected to vote on Friday in favour of joining the campaign against Islamic State, although only to provide military support for air strikes, not actually to take part in them.