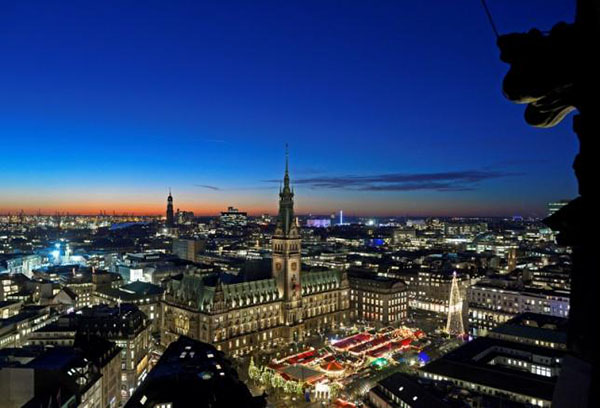 A general view of the Christmas market in front of the historical town hall in Hamburg, November 25, 2013. [Photo/Agencies] 
Hamburg residents rejected the German port city's bid to host the 2024 Olympics in a public referendum on Sunday. Opponents to the bid won with 51.6 percent of the vote, with 48.4 percent in favor.
"That's a decision that we didn't want, but it's clear," said Hamburg mayor Olaf Scholz.
Defeat came despite 65.6 percent of residents in the nearby city of Kiel voting in favor of the games. Sailing events had been planned for Kiel.
More than 40 percent of those eligible to vote in the referendum did so through a postal ballot more than four weeks before Sunday's vote. Around 650,000 - or half - of the eligible 1.3 million voters in Hamburg had their say.
"The result is a bitter pill for us to swallow, but a democratic decision must simply be accepted," said Nikolas Hill, chief executive of the bid committee. "We have always said that the candidacy can only be successful if it is really desired and supported by the citizens."
The result leaves Paris, Rome, Los Angeles and Budapest, Hungary as the sole bidders for the 2024 Games. The International Olympic Committee will select the host city in September 2017.
IOC president Thomas Bach had been happy to have five candidates and Sunday's result will be seen as a blow to the German.
Germany has not staged an Olympics since the 1972 Summer Games in Munich.
"I'm disappointed and sad. It would have been a big opportunity," said Dietmar Beiersdorfer, chairman of football club Hamburger SV. "It would have been a wonderful story."
Munich's bid for the 2022 Winter Games was also rejected in a referendum.
"It looks like thoughts of Olympia and Germany don't go together," said Alfons Hoermann, president of the German Olympic Sports Confederation (DOSB).
Hamburg's campaign to host the games was carried out "with lots of love and engagement," Hoermann said, and "without mistakes."